Appalachian Hills Wildlife Area Work Party, Buckeye Trail Association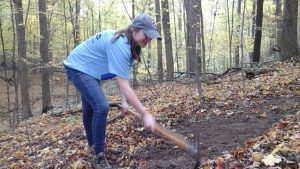 It's a Buckeye Trail Association (BTA) work party! The BTA Muskingum Lakes and Central Ohio Chapters are working together to clear the trail through the Appalachian Hills Wildlife Area. Trail maintenance will include vegetation management, mowing (lots of mowing!), and bucking and limbing of fallen trees. This is a great opportunity to get some hands-on experience using a DR mower.
The BTA Chuckwagon will be parked at camp for meals. Breakfast and dinner will be provided, along with plenty of choices to pack yourself a trail lunch (three-day advance registration required). Camping will be available at the Bicentennial Campground K (10766 Lincoln Highway, Caldwell, OH).
Email bellevalley@buckeyetrail.org with questions.