Hike 2: Chequamegon Chapter Hike Series
Date/Time:
Jun 22
9:00 am - 3:00 pm
See all events at:
Delta-Drummond Road
Categories:
This hike is the second in a series of nine that will traverse the section of the North Country National Scenic Trail (NCNST) maintained by the NCTA Chequamegon Chapter. The Trail here was built by U.S. Forest Service personnel and Job Corp employees in 1967 and 1968. It is the original "North Country Trail." These weekly hikes, on Wednesdays, from June 15 through August 17. (There is no hike scheduled for July 6.)
Please register for any hikes you plan to attend by sending the hike number(s), your name, and email address to che@northcountrytrail.org.
This 7.9 mile, one-way hike on a dirt tread will pass through the Congressionally designated Rainbow Lake Wilderness in the Chequamegon-Nicolet National Forest where no trees have been harvested for over 50 years. Small, picturesque lakes fill basins in the rolling terrain. We may walk through short wet or muddy spots. Our average hiking speed will be about two miles per hour. We will take a five- to 10-minute break every hour, and a 30-minute lunch break. The hike is limited to 18 participants.
In June, the average low temperature here is 51° F and the average high is 73° F. June is the wettest month of the year with rain on an average of 24 days. Expect mosquitos and ticks. A brimmed hat, long-sleeved shirt, and long pants treated with insect repellent are recommended. Bring plenty of water and lunch.
This section of Trail is not accessible for people with mobility impairments. There are no restrooms at trailheads or along the Trail. Cell phone access is unlikely. There is no fee for this hike.
Meet at a small parking lot where the NCNST crosses the Delta Drummond Road about three miles north of the city of Drummond. After assembling at the NCNST crossing on the Delta Drummond Road, we will carpool and drive northwest to the beginning of our hike where the NCNST crosses Forest Road 228 at the northwest corner of the Rainbow Lake Wilderness. At the end of our hike, one or two cars will need to transport shuttle drivers back to our hike's starting point on Forest Road 228.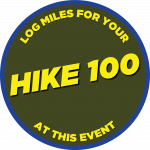 Add to Calendar