First Hike on the First, Hiawatha Shore-to-Shore Chapter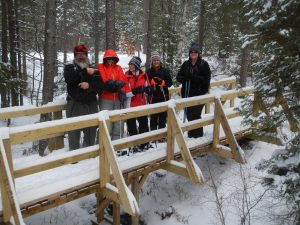 Start the New Year off right with a hike! Hike with the NCTA Hiawatha Shore-to-Shore Chapter along the Tahquamenon River near the river's mouth. Celebrate the New Year with a hike on the NCNST! Get an early start in fulfilling the 2023 Hike 100 Challenge!
We will meet on Tahqua Trail Road about 0.75 miles west of M-123 on the north shore of the Tahquamenon River near the river mouth, and hike on the Trail along the river. Bring clothing appropriate for the weather, snowshoes or cross-country skis, water, the 10 Essentials, a snack, and a camera.
Distance of the hike will depend on conditions and your abilities. This will be an out-and-back hike in order to avoid carpooling. The length of the hike will be determined by you: You will be able to turn around at any time.
A map of the hike area is here. GPS Coordinates: 46.564338, -85.041493
We will need to record your name and contact information before the hike. If you are sick or a family member is sick, please stay home. If you have been in contact with someone who develops Covid-19 around the time of the hike, please contact us at hss@northcountrytrail.org. Questions or comments? Call or text Tom Walker at 906-322-2617. Cell phone service may not be the best (non-existent) in the area of the hike.
Tahqua Trail Road is a dirt road along the north side of the Tahquamenon River at its mouth. Take M-123 south from Paradise or north from Eckerman to get there. On the north side of the mouth of the river there is a Michigan DNR picnic area on the shore of Whitefish Bay. Tahqua Trail Road is located across M-123 from that picnic area.