Hiawatha Shore-to-Shore Chapter: It's Beginning to Hike a Lot Like Christmas
Map Unavailable
Date/Time:
Dec 10
10:00 am - 4:00 pm
Categories:
Join our Hiawatha Shore-to-Shore Chapter and see the Niagara Escarpment! (For an introduction of what the Niagara Escarpment is, read https://en.wikipedia.org/wiki/Niagara_Escarpment )
We will meet for this 6 hour hike at the Niagara Escarpment parking area on FS3323 off East Lake Road south of H-40 just north of the Chippewa/Mackinac County line. The parking lot is about 1/4mile off of East Lake Road. IF THERE IS DEEP SNOW we will meet on East Lake Road at the entrance of 3323. On some maps FS3323 is shown as 'Sylvester'. See our interactive map at https://bit.ly/3kKj03M and we will car pool to our start near mile 496.5 as shown on the map. (GPS coordinates for the meeting location: 46.162156 -84.784667 Lat./Long.)
East Lake Road runs between H-40 on the north end and Charles-Moran Road on the south end. From Trout Lake or Rudyard follow H-40 to East Lake Road – about 10 miles from either town. To get to the south end of East Lake Road, take M-123 to Moran and turn east onto Charles-Moran Road then in 1/4 mile turn north onto East Lake Road.
The length of the hike will be determined by you. From H-40 to the Escarpment is 4.5 miles. Some will hike shorter than that and conditions that day will dictate the length of the hike. We can discuss options at the meeting location.
Be prepared for the conditions. Snowshoes or XC skis may be needed. Bring water, a camera, and the 10 essentials (https://americanhiking.org/resources/10essentials/) and a snack for the trail.
Cell phone service may not be the best (non-existent) in the area of the hike. If you have questions before the day of the hike, text Tom at 906-322-2617.\
After the hike we will gather close by at the home of Stan and Kay Kujawa for a potluck meal (bring something that will go with the Sloppy Joes that Stan and Kay will make) as we celebrate the Kujawa's 20 years of volunteering service to the NCT.
We will need to record your name and contact information before the hike.
Questions? Comments? Post them here or call Tom Walker at 906-322-2617.
If you are sick or a family member is sick, please stay home.
If you have been in contact with someone who develops COVID-19 around the time of the hike, please contact us at hss@northcountrytrail.org.
If you can answer 'Yes' to any of the following questions, please stay away:
Have you experienced symptoms consistent with COVID-19 in the past 48 hours?
Within the past 14 days, have you been in close physical contact (six feet or closer for a cumulative total of 15+ minutes) with anyone who is known to have tested positive for COVID-19? With anyone who has any symptoms consistent with COVID-19?
Are you currently waiting on the results of a COVID-19 test?
You don't have to tell us you answered 'Yes'. Please just don't attend this event.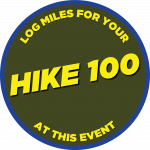 Add to Calendar