Kekekabic Trail Women's Spring Maintenance Weekend
The NCTA Kekekabic Trail Chapter is partnering with Unruly Women to host a two-day volunteer event to work on the Kekekabic Trail.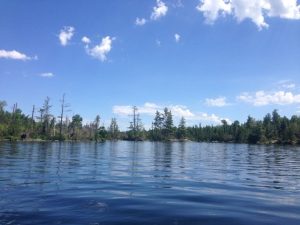 This event will be led by Monica from Unruly Women and Nicole from the Kekekabic Trail Chapter. Activities will include hiking along this beautiful trail while clearing vegetation, digging, branch removal, squatting/lifting, and moving debris to clear the trail. We will be using hand tools such as: shovels, loppers, and hand saws. You must be able to hike up to 6 miles (total) in one day to participate in this event.
Sign up for this event today! There is a limited attendance of 9 participants.
The 41-mile Kekekabic Trail is located almost entirely within the Boundary Waters Canoe Area Wilderness (BWCAW) in the Superior National Forest. Its name is derived from Kekekabic Lake, located near the center of the trail. The Kek was originally built for fire tower access and firefighting. We will only be working on a portion of the trail for this two day work-weekend.