Next Generation Coalition Member Highlight
Dennis Olson, Minnesota
Mid-October, Next Generation Coalition member Dennis Olson was invited to be a guest speaker at the Minnesota Recreational Trail Users Association board meeting.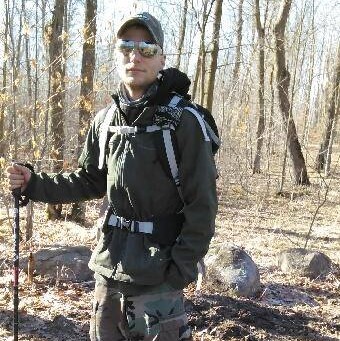 "I was very honored to have the opportunity to be able to speak in Itasca State Park and talk about my upcoming plans for the year, and what I try to do for the Coalition," wrote Dennis.
The Next Generation Coalition, also known as "Next Gen" or "the Coalition," will work toward its mission by supporting the NCTA in: Communicating effectively about the relevancy of the NCTA to a broader audience; advocating for stewardship of the North Country Trail; forging new partnerships with youth and multicultural organizations; and supporting innovative projects to expand access to the North Country Trail resources. The NCTA recognizes and embraces the fact that we must engage the next generation now to sustain the Trail, and has identified the need to build a coalition of younger supporters to lead the way.
"I started off by introducing myself and talking about how I got into backpacking, which led to finding the NCT and joining the Coalition," explained Dennis. "I talked about why I joined because in the thousands of miles I've hiked, never once came across anther person on trail under 50 years old and that kinda bothered me. So I got all my friends into hiking. I also showed them my Facebook page, Minnesota Hangers. Quite a few people were very interested in the group hikes I put on and suggested I post them so they can get their kids out there with me, and that was awesome. I met a lot of cool people that are interested in helping me put on some hikes in their area of the state, so now I can possibly cover all of Minnesota. My next step is to join the Laurentian Lakes Chapter and adopt a section, and just keep moving forward."
If you're interested in doing similar work with the Next Generation Coalition, please email nextgen@northcountrytrail.org.⁠