57 Continuous Miles
This new 3.17-mile section of Trail traverses through various types of vegetation, runs along a river, takes in views of two lakes and runs through two wetlands. This section also allows for nearly 57 continuous miles of off-road Trail…
by Kenny Wawsczyk
Late last year work began on the infamous Echo Drive reroute. Located just west of the Trail Town of White Cloud formally lied 3/4 of a mile road walk. A half mile was on a rather low traffic gravel road but the other quarter of a mile on a curvy paved section where motorists often test their road coarse racing skills.
Early winter snowfall halted the project. Then we all know too well what happened this last spring. This reroute was used to delays, so the pandemic didn't phase it. An Optimal Location Review (OLR) was signed in late 2013, early 2014 by all parties involved. The hope in that OLR was to get an agreement with a private landowner to cross their property and avoid building a long section of boardwalk across a bog. Well after negotiations failed the focus was on that boardwalk, with the entire route being on Forest Service land. Questions of how we would pay for such a structure and more importantly, how could we build it to have a minimum impact on the sensitive surrounding soils and vegetation all held up construction.
With permission from the Manistee National Forest, if we could find the money to engineer a specialized boardwalk we could proceed with the project. So with the funds from a DNR Iron Belle Trail grant we were able to pay for the Forest Service engineer's time to design a boardwalk which utilizes galvanized pans as supports for the structure. These pans sit atop of the soil and create a type of suction, has minimal impact to the area and allows the posts in which sit in them to be adjusted in case there's any frost heave.
Then thanks to the Iron Belle Trail Funds (non-profit organization) approaching the Fremont Community Foundation, we received a grant to purchase all the material for the boardwalk and help pay for the Forest Service's staff time to assist with construction.
Although we couldn't have large workdays and use the building of the trail as a training for interested new volunteers, the local Western Michigan Chapter alongside the Forest Service staff and help from the SEEDS Youth Conservation crew, were able to complete the project in September.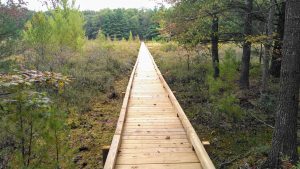 This new 3.17-mile section of Trail traverses through various types of vegetation, runs along a river, takes in views of two lakes and runs through two wetlands. This section also allows for nearly 57 continuous miles of off-road Trail, from Basswood Drive in Newaygo County to 40th Street in Lake County. That's over twice the length of any other continuous section of trail that doesn't follow a road in the lower part of Michigan. Quite the accomplishment for the Western Michigan Chapter and everyone else involved.
To receive email updates on NCT projects in Michigan, please consider signing up for the 1150 e-newsletter, written by Kenny Wawsczyk, Regional Trail Coordinator for Michigan. Contact Kenny to be added to the email list.