Any current North Country National Scenic Trail closures or reroutes will be posted here.
Check this page before each hike, or contact the Chapter or Affiliate who maintains the Trail in the area you plan to hike. If you encounter an issue on the Trail, please report it using this form.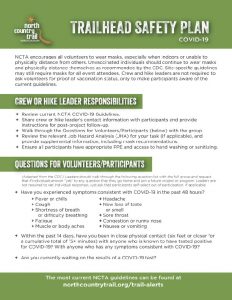 The Centers for Disease Control and Prevention (CDC) has issued updates to their guidance on best practices to prevent the spread of COVID-19 and many NCNST states are relaxing regulations around travel and in-person gatherings. As a result, NCTA is now encouraging NCTA volunteers to simply follow federal and state and local guidelines when planning hikes, projects and events on the North Country Trail.
Volunteer activities are not mandatory. Individuals should be aware that they are participating at their own risk.
As always, volunteers must stay home if they have tested positive for COVID-19, are waiting for COVID-19 test results, have COVID-19 symptoms, or if they have had close contact with a person who has tested positive for or who has symptoms of COVID-19.
NCTA Chapters should also familiarize themselves with the CDC's Event Guidance to best understand the risk variables when planning events.
Some individual land managers may have more restrictive guidelines in place that NCTA volunteers are still expected to follow.
All volunteers should continue to monitor state and local updates about the spread of COVID-19 in the area and adjust operations accordingly. If cases significantly increase, NCTA will issue updated guidance. Check out the map to see county data along the NCNST corridor.
CDC guidelines outline that fully vaccinated individuals no longer need to wear masks or physically distance in most cases, whether indoors or outdoors. Those who are not fully vaccinated should continue to wear masks and physically distance as recommended by the CDC. Site-specific guidelines may still require masks for all event attendees.
Hunting Season 2022: Various hunting seasons are already underway across the North Country Trail corridor. Wearing blaze orange will help keep you visible to others nearby. Trail users should stay on trail and keep dogs on-leash, and hunters be aware of where the Trail runs in relation to their stand or blind. Before you hike or hunt, check out our online map to learn who manages the land the NCNST crosses and visit the appropriate land manager, state or county websites to learn about hunting seasons, and local rules and regulations. Please note individual Trail sections may be closed due to the wishes of the private landowners who host the NCNST.
Header photo by Grand Rapids Christian Middle School