The North Country Trail Association offers Field Grants in the amounts of $200 – $5,000 to Chapters, Affiliates, Regional Trail Coordinators and Trail Councils. Since 1998, the Field Grants program has funded close to 500 projects across the North Country National Scenic Trail.
Projects eligible for Field Grants include:
Special events, programs or projects to build public support of the Trail and/or membership in the NCTA
Installation or repair of the Trail, Trail facilities, or Trail signage or displays
Purchase of major tools or equipment for work related to the Trail
Volunteer training events
Requests for general operational support
For additional information, including the application and application schedule, visit the Grant and Financial Management section of the Volunteer Resource Center.
Field Grant Project Highlight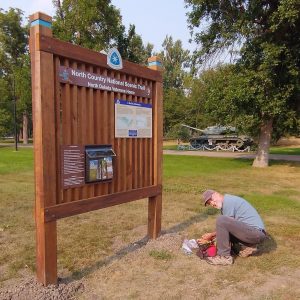 In 2019, NCTA Dakota Prairie Chapter members developed a plan for an interpretive kiosk installation project across their section of NCNST. Volunteer Tom Moberg felt strongly that acknowledging the full history of the land was crucial, with a special focus on the Indigenous peoples settled there long before Europeans. He spent numerous hours researching local Native American tribal history. He consulted historians, researchers, and archives. With private donations and grants – including NCTA Field Grants – funding the kiosk materials, Chapter volunteers were ready to build. Six kiosks are now complete and accessible by vehicle. "It meets our need to do volunteer work that we feel is meaningful, the need for exercise, and all the dimensions of working with interesting people and organizations," Tom explained. "We think our involvement helps make a positive change."
Thank you to Two for the Trails for helping support 2022 Field Grants!
Header photo by Dave Brewer