Support the North Country Trail Association.
Your gift is important. When you make a donation, you support Chapter projects. You help keep maps free. You support programs like the Next Generation Coalition and the Hike 100 Challenge. You provide a premier trail experience for volunteers, families, and trail users alike. Every penny counts. Make a one-time gift, become a sustaining donor with monthly support, or join our Founders Circle. (Founder Circle members give $500 or more annually to support the advocacy, promotion, and protection of the North Country National Scenic Trail.) Your gift builds your North Country Trail.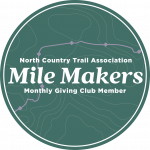 Join the Mile Makers Club to watch your gift develop the Trail. This monthly giving program allows your support to truly go the distance when it comes to maintaining every mile of the NCNST. In the Gift Amount section, select Other and enter the monthly amount of *your choice. Then in the Mile Makers Club section, be sure to check the box "Make this a monthly gift" to assure your support will recur monthly.
*The minimum amount for the Mile Makers Club is $9/month. Mile Makers Club membership renews automatically each year unless indicated otherwise.
Are you a member of the NCTA yet? Learn more today!
If you would prefer a PDF version of this form to print and mail in, you may download that here: NCTA Donation Form, Printable PDF. View the NCTA State Disclosure Statement here.
Header photo by Ben Bouchard