Hiking the North Country Trail through Pennsylvania is to experience the natural, industrial and cultural past and future of this beautiful and rugged region.
Throughout the state, many sections of the Trail traverse various State Game Lands, demonstrating the state's hunting heritage and its dedication to preserving natural habitat, as well as the cooperative efforts of people with diverse interests in the outdoors to provide a positive recreational experience for all. A significant amount of trail also traverses gorgeous, rocky, stream-filled state parks like McConnells Mill, Moraine, and Cook Forest, as well as the impressive and remote Allegheny National Forest. There is no shortage of water, hemlocks, geology, and elevation change in Pennsylvania.
Explore the Trail by Region
Northwestern Pennsylvania: Ohio/Pennsylvania state line to the southern boundary of the Allegheny National Forest
Allegheny National Forest: Southern boundary of the Allegheny National Forest to the Pennsylvania/New York state line
Important Notes and Additional Information
Pennsylvania State Parks are free for all to enter but camping and hiking rules and regulations may apply. State Game Lands also have important regulations for trail users, including the prohibition of overnight camping. Please visit the Pennsylvania Department of Conservation and Natural Resources and the Pennsylvania Game Commission websites before planning a trip.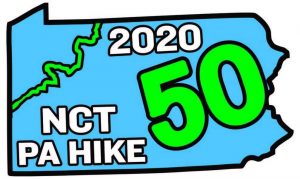 The Hike PA 50 is back for 2020 and better than ever! The Pennsylvania Trail Council of the NCTA is hosting a "PA Hike 50" challenge with a commemorative patch for those who hike 50 miles on the North Country Trail in the state during the calendar year. The PA Chapters will be holding guided hikes that can help people complete the challenge. Note that there is not a unique miles requirement this year, nor do participants need to hike in the different NCTA Chapter's ranges to qualify for this award, so out-and-backs and multiple hikes on the same mile of Trail will qualify for the award! Visit the pages for the Wampum Chapter, Butler County Chapter, Clarion County Chapter and Allegheny National Forest Chapter for maps, information about the Trail and the Chapters, and planned hikes. Please use #PAHike50 to share your adventures on social media. When finished, fill out the PA Hike 50 Completion Form.
Header photo by Randall Roberts.