Wampum was established in 1796 and is the oldest borough in Lawrence County. Located just 35 miles from Pittsburgh and 17 miles from Cranberry Township, Wampum is nestled in a wooded valley along Beaver River. Wampum is proud to be the first Trail Town in Pennsylvania with the North Country Trail Association. We hope we can be an asset to your hikers and provide them some comfort and relaxation as they enjoy the beautiful Trail which the Wampum Chapter of the North Country Trail Association built and continues to maintain.
Wampum's mission is to develop a healthy business community, create an attractive and welcoming environment, provide a wide range of indoor and outdoor recreation, as well as a historical and cultural atmosphere for all of its citizens and visitors, both young and old.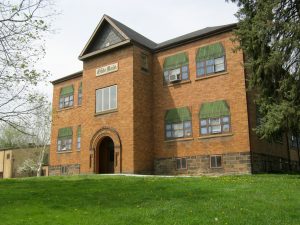 Some of the businesses next to the North Country Trail include Jackie's Laundromat, Stop & Shop Food Mart, a U.S. Post Office, ATM, Western Union, Tom's Auto Repair, T-Bone's Paramont Cafe, the Nail and Hair Gallery, Peggy's Floral and Gift Shop, Dr. Bailey DDS, Ron's Barber Shop, and more. In addition, the Revitalization Group is trying to develop a primitive camping area along the Darlington Road Area. There is also a campground at Mines in the Meadow ATV Park in Darlington.
The Wampum Chapter is responsible for the North Country Trail section through Wampum.
Header photo provided by Wampum Chapter