Today is a great day to join or renew.
Become a part of a Trail Community that loves and protects the North Country National Scenic Trail. Curious which Chapter will be the best fit for you? See the Chapter and Affiliate map and list.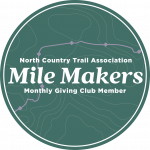 Join the Mile Makers Club to watch your gift develop the Trail. This monthly giving program allows your support to truly go the distance when it comes to maintaining every mile of the NCNST. In the Membership Level section, select Other and enter the monthly amount of *your choice. Then in the Mile Makers Club section, be sure to check the box "Make this a monthly gift" to assure your support will recur monthly.
*The minimum amount for the Mile Makers Club is $9/month. Mile Makers Club membership renews automatically each year unless indicated otherwise.
If you would prefer a PDF version of this form to print and mail in, you may download that here: NCTA Membership Form, Printable PDF

Header photo by Kristi Evans