Whether you're on a casual stroll or a thru-hike of the North Country National Scenic Trail, it's essential to plan and prepare.
This basic guidance may help enhance your experience and keep you safe, but before you hit the Trail, we highly recommend you gather additional information about topics such as weather forecasts and safety procedures, local land management rules and regulations, appropriate clothing and equipment, Leave No Trace principles, and first aid. Follow our blog, Facebook and Instagram to watch for content containing more in-depth information on these topics.
What to Expect
The North Country National Scenic Trail (NCNST) is 4,800 miles long, traversing eight states from North Dakota to Vermont. When reroutes are complete, it will connect the Lewis and Clark National Historic Trail in the West to the Long Trail and Appalachian National Scenic Trail in the East. While it's a fantastic challenge for long-distance hikers looking to log high mileage or thru-hike, it's also an extremely accessible trail for those looking to casually hike during a lunch break. Because it stretches thousands of miles through diverse landscapes, we recommend you study our Interactive Map and reach out to the local Chapters and Affiliates to learn about the terrain to expect and the resources available to you. Please consider also contacting the local land manager(s) to ensure access and appropriate use of the Trail.
The North Country Trail Association (NCTA) does not run an official long distance hiking program. Because our trail crosses private and public lands, we must follow and respect the rules and regulations of land owners and managing authorities. For long distance planning, it's up to you to research information like permits, accessibility, camping and water availability, and more. We recommend you contact local NCTA Chapters and land managers (e.g. U.S. Forest Service, state parks, state forests, etc.) directly with questions. We also recommend two community-based, forum-like Facebook groups: North Country Trail Community and Trail Angels of the NCNST. North Country Trail end-to-end hiker Joan Young chairs a North Country Trail Long Distance Hikers Club, another helpful source of information.
Navigation
The North Country Trail Association (NCTA) offers you North Country National Scenic Trail (NCNST) maps for free: an interactive online map and downloadable, printable section PDFs. NCNST maps are also available on the FarOut and Avenza apps. Visit the Trail Map and Downloads page to learn more.
Every small adjustment to the Trail will shift the map's mileage points in a state, so please make sure you have the most recent information before heading out on a hike. All NCTA map data is updated at least twice a year: Once in the spring and once in the fall. Double check the date on each PDF you view or download. The Interactive Map always has the most up-to-date data. Reference the Trail Alerts page for additional information, or contact NCTA volunteer Chapters for local-level questions and details.
Blazes
The North Country National Scenic Trail (NCNST) is frequently marked by bright blue rectangles called blazes. They're about the size of a U.S. dollar bill turned vertically. Blazes are often painted on trees or posts, but sometimes stickers are used instead. Other trail systems use blazes too, but Nelson Boundary Blue indicates North Country National Scenic Trail.
It's important to note that land managers also often use blue paint to mark trees for removal (e.g. disease or timber harvest). These marks are typically a simple dot or slash of spray paint, and not a clean, rectangular blaze. These are not NCNST markers.
While blazes are helpful navigation aids, they should not be solely relied upon to keep you on the Trail. NCTA volunteers and land managers will do their best to keep their NCNST sections well marked and well maintained, but blazes cannot always be guaranteed. Paint fades, trees fall, and reroutes are built. Some land managers do not allow blazes for a variety of reasons. Please always reference the NCTA mapping resources and Trail Alerts before heading out and during your hike.
Safety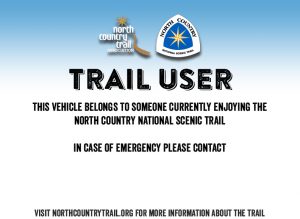 Terrain and climate vary greatly across the North Country Trail. Many sections contain roadwalks or stream crossings. Please use caution regardless of your location. Plan ahead by researching your route, weather forecasts and safety procedures, local land management rules and regulations (including hunting seasons), appropriate clothing and equipment, Leave No Trace principles, and first aid. Consider mileage and time, water availability, and your own physical capabilities.
Download and print this flyer for placement in the windshields of vehicles parked at trailheads, or other workday or group hike locations. There is a blank space for the trail user(s) to write in contact information in case of emergency. It is designed at 11 x 8.5 inches. Click the flyer image to view and download the PDF for printing.
Camping
There are numerous camping options along the North Country Trail, including primitive backcountry sites, established campgrounds, and rustic shelters. Some information is available on our Interactive Map. To ensure you have a safe spot to sleep, please research our Explore the Trail page and contact the land manager(s) for camping rules and regulations in the area(s) you intend to camp. Consider backcountry permits, campground fees, fire restrictions or bans, dispersed camping rules, water sources, wildlife, facilities, trash, and biowaste disposal. Always keep in mind the seven principles of Leave No Trace.
Group Use of the NCNST
Because of the hundreds of different land management units that the North Country National Scenic Trail travels through and their disparate policies on trail use, the North Country Trail is not necessarily well suited in all places to accommodate large groups. This is particularly true for overnight group use where some backcountry campsites are only designed with three to four tent pads. Groups planning to camp on the NCNST should research the land management unit where they plan to camp, and any policies or group size limits that apply to that particular location. Our Interactive Map will provide information about the land management unit for each section (e.g. Iron County Forest).
Multi-Use
While the North Country National Scenic Trail is primarily a footpath, many sections allow bicycles and horses. Using our Interactive Map, click on a section of Trail to see if it is open to bikes and/or horses. This same information box will also reference the land manager of that section. For additional information, contact the land manager of the section you intend to use.
Dogs
Most of the North Country Trail welcomes dogs but some segments may not, such as parts of Pictured Rocks National Lakeshore. Please also check your local-level leash laws and regulations before venturing out with your furry companion(s). If you have questions about dogs or leash laws in specific areas, contact the land managers of the sections of Trail you're utilizing.
References
In 2020, hiker, author, writer and speaker Liz "Snorkel" Thomas produced a short series of gear care videos for the NCTA. Liz is considered among the most experienced hikers in the U.S. She's known for backpacking light, fast, and solo. She has hiked more than 20,000 miles on 20+ long trails, including many National Scenic Trails.
How to Wash a Sleeping Bag
How to Pack for Backpacking
Aside from the digital navigation resources the NCTA offers for free on this website, the NCTA Trail Shop offers reference materials for purchase: Border Route Trail map set; Guide to Hiking the North Country Trail in Minnesota by Susan Carol Hauser and Linda D. Johnson; Kekekabic Trail Guide by the NCTA's Kekekabic Trail Chapter; and Nettie Does the NCT by Lorana Jinkerson (a children's book).
Many of the following reference materials contain navigational notes or guidance that may have changed since publication.
All hikers should refer to our PDF or online maps for the most current route and trail condition information.
Header photo by Matt Davis