Join the Mile Makers Club to watch your gift develop the Trail.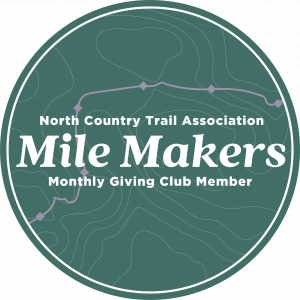 Mile Makers are individuals and families seeking a cost-effective way to make a long-term impact for the North Country National Scenic Trail (NCNST) and the North Country Trail Association. This monthly giving program allows your support to truly go the distance when it comes to maintaining every mile of the NCNST. For example:

$9/month can train one NCTA sawyer or hike leader in CPR and First Aid.
$13/month can equip two NCTA Trail Adopters with hand saws for trail maintenance.
$18/month can build seven feet of boardwalk.
$26/month can train one volunteer as an NCTA Crew Leader.
You can also customize your monthly amount for limitless possibilities. Supporters will receive an exclusive Mile Makers sticker.
The 4,800 miles of North Country National Scenic Trail did not appear suddenly, nor all at the same time. It was built incrementally by many hands, minds, and hearts. It is now maintained, expanded, rerouted, and protected mile by mile by dedicated volunteers – sometimes as a group, sometimes individually. One person – one supporter – can make miles of difference.
Become a Mile Maker today with membership at northcountrytrail.org/join-renew. You can also become a Mile Maker via donation at northcountrytrail.org/donate.
The minimum amount for the Mile Makers Club is $9/month. Mile Makers Club membership renews automatically each year unless indicated otherwise.