Lawrence/Butler county line east of McConnells Mill State Park to the Armstrong/Clarion County line at the Allegheny River
The Butler County Chapter has a planning meeting the second Wednesday of each month at the Butler YMCA Trustees Meeting Room. We hold monthly hikes and special events such as the annual Cherry Pie Hike commemorating George Washington and his guide Christopher Gist's journey through Butler County in 1753. This event is held at Jennings Environmental Education Center, and has re-enactors, history hikes, nature hikes and a seven-mile long hike along the NCNST. Our Chapter assigns trail adopters to each section and each spring hosts a weeklong trailcare event with the Keystone Trails Association to tackle larger projects.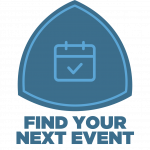 The Pennsylvania Trail Council of the NCTA encourages everyone to get out and enjoy the beauty of the North Country Trail in the Keystone State, and is sponsoring a
Hike 50 Challenge
in 2022. A commemorative patch and certificate of completion are available to those who hike 50 miles on the NCT in the state during the calendar year. There is not a unique miles requirement, nor do participants need to hike in the different NCTA Chapter's ranges to qualify for this award. (Out-and-backs and multiple hikes on the same mile of Trail will qualify for the award!) Please use
#PAHike50
to share your adventures on social media. When finished, send along a photo or two and fill out the
PA Hike 50 Completion Form
.