Southern boundary of the Allegheny National Forest to the Pennsylvania/New York state line
Throughout the year there are many opportunities to hike the NCT or get involved in activities with other Allegheny National Forest (ANF) Chapter members. You can enjoy the Trail with friends and family, or join a guided hike. With almost 100 miles of the North Country Trail in the ANF, there are always new places to explore. Each member can bring their own skills and interests in helping to maintain trail or promote trail events. Trail work days are held once or twice a month on weekends. On those days members enjoy time together accomplishing bigger projects. Members can volunteer to maintain a section of trail, or get involved with planning and promoting the Trail and Chapter events. Our Chapter sponsors the Allegheny 100 Hiking Challenge each June. The A-100 event challenges hikers to traverse 25, 50, 75 or 100 miles in 50 hours. Other Chapter events include monthly hikes, the NCNST Day celebration in September and a National Trails Day event in June. For those interested in geocaching, there are over 100 caches placed along the Trail through the ANF, approximately one per mile. A pathtag is awarded for bagging 50 caches. Finally, a completion patch is awarded by the NCTA ANF Chapter for logging all all NCT miles in the ANF. See a list of section completers here.
ANF Completion Patch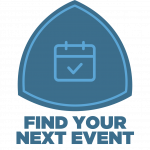 The Pennsylvania Trail Council of the NCTA encourages everyone to get out and enjoy the beauty of the North Country Trail in the Keystone State, and is sponsoring a
Hike 50 Challenge
in 2022. A commemorative patch and certificate of completion are available to those who hike 50 miles on the NCT in the state during the calendar year. There is not a unique miles requirement, nor do participants need to hike in the different NCTA Chapter's ranges to qualify for this award. (Out-and-backs and multiple hikes on the same mile of Trail will qualify for the award!) Please use
#PAHike50
to share your adventures on social media. When finished, send along a photo or two and fill out the
PA Hike 50 Completion Form
.