2021 Outreach, Communicator, and Boots on the Trail Awards: Volunteer Spotlight
2021 Outreach Award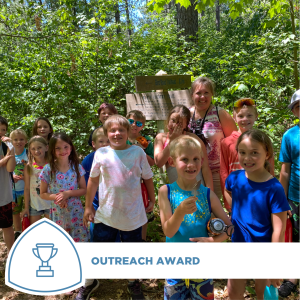 Julie Fromm. Julie had a great idea in 2015: For every kid in the Solon Springs (Wisc.) School District to hike on the North Country Trail. Julie, a school district aide, accomplished this by planning a schedule of 13 hikes held over a week in late spring: One for each grade level in the K-12 school, each on a separate section of Trail in the Solon Springs area. She arranged bus transportation to and from trailheads, and for an expert trail guide to hike with each class group. Most were volunteers from the Brule-St. Croix Chapter, some Wisconsin DNR or St. Croix National Scenic Riverway staff. This program has now been held six times, though schools were closed in 2020. Kindergarteners in 2015 are now sixth graders, and each year they've seen a different section of Trail. This program can be a model for any Trail Town like Solon Springs, or any school district with nearby access to the NCT. She's now given more than 350 young people a personal experience on the Trail.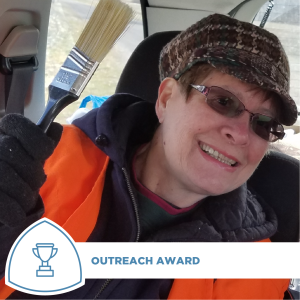 JoEllen Sokoloski. JoEllen joined the NCTA in 2005 and immediately took on the duties of Wampum Chapter Treasurer, a job she has now done for the past 16 years. She tracks funds, handles recurring expenses, and keeps the membership informed of the Chapter's financial status and capabilities. The Chapter's account can be complicated and require much time, attention, and follow-up to keep organized. JoEllen has done a tremendous job of doing so. She has also been the Chapter's liaison with the Wampum Business Association and the Wampum Historical Society, and was one of the main drivers of the initiative to make her hometown the first NCTA Trail Town in Pennsylvania. She is a consistent participant in community outreach activities and can always be found in the thick of the planning Chapter social functions. JoEllen has painted her fair share of blue blazes along the Chapter's NCT range over the years, too. Her steadfastness and commitment have been invaluable.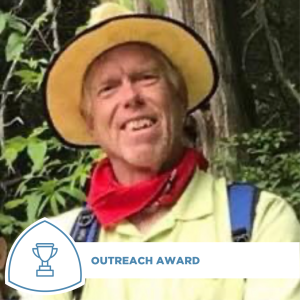 Eric Longman. Eric has been an NCTA member for 18 years, and has held various leadership positions within the Chief Noonday Chapter. He continues to be a Trail Adopter and sawyer. His barn has been the location for building materials and workdays for many years. Eric can be counted on to help with guided hikes, both as a leader or sweep, and coming up with ideas for themed hikes. Outreach events are also on his busy volunteer schedule, and in 2020 he came up with the Hike the County Challenge. The NCT through the Chief Noonday Chapter's section spans three counties: Barry, Calhoun, and Kalamazoo. After each county is completed, a patch, certificate, and information about the area hiked is sent to each hiker. Over 150 hikers have signed up from all over Michigan and neighboring states. A fantastic outreach event during a pandemic!
2021 Communicator of the Year Award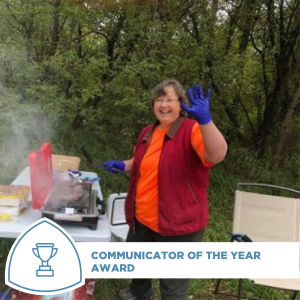 Janice Kessler. Jan was the Chief Baw Beese Chapter Communication Specialist from 2016-2019. She started the Chapter's Facebook page and kept it relevant with updates and loads of pictures. She wasn't seen with a chainsaw or spotted hauling logs, but she was often at workdays with a smile and encouragement. She was always at Chapter meetings and gatherings, often bringing food for the group. The Chapter has Jan to thank for bringing a younger crowd into the group as active members.
2021 Boots on the Trail Award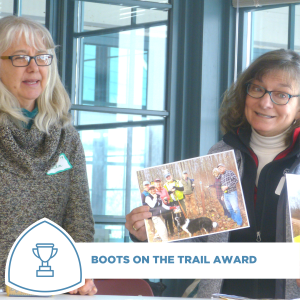 Jackie Kruse and Sara Balbin. The Chequamegon Chapter has been blessed since 2016 with the women's group, the NCT Navigators. They have acted as ambassadors for the NCT by inviting women from all over to hike the Trail on almost a weekly basis most of the year. Their activity has expanded local interest in the Trail, facilitating new members to join. By 2018, the Navigators became more involved with stewardship, including enthusiastically adopting one of the more labor-intensive sections in the Rainbow Lake Wilderness. Sara Balbin and Jackie Kruse have been the main organizers/leaders that have brought so much success to this group and the Chapter. Sara manages Navigators outreach, providing photos and information for social media. Jackie organizes events and emails members, and attends many Chequamegon Chapter events and meetings. Through their outreach and organizational efforts, they are significantly responsible for the Chapter's very large boot print.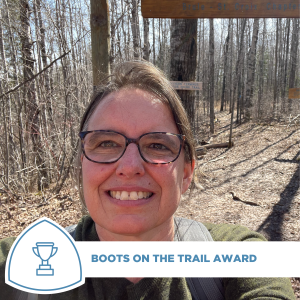 Teresa Nelson. Teresa has been guiding hikes with the Brule-St. Croix Chapter for more than six years. Four years ago, she became coordinator of the Chapter's hiking program. This requires schedule organization of 10 group hikes from May to October across the Chapter's 54 miles of off-road Trail. She then recruits from the Chapter to guide the groups, and focuses on ensuring each hiker has a quality experience. She also oversees coordination of the Chapter's annual National Trails Day and North Country Trail Day/National Public Lands Day events. Teresa has done an exceptional job of managing this substantial program, and even maintains participation data for comparison with past years – she is a professional statistician). She has engaged in research about historical and natural features along the Trail, and has served on the Chapter's Executive Committee. Teresa truly stepped up to continue the Chapter's most visible program that has been essential for introducing more people to the NCNST.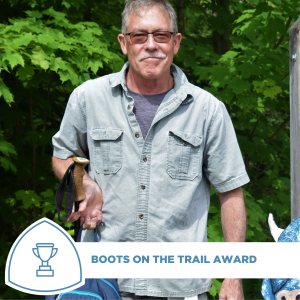 Bob Courtois. Bob has been the Jordan Valley 45° Chapter Hike Coordinator since 2018. He leads monthly hikes, and brings enthusiasm and energy through detailed announcements and post-hike summaries with photos. He typically offers both long and short hike options to accommodate varying leg lengths, interests, ages, abilities, and schedules. Since Bob can only lead one hike at a time, he always coordinates for another Chapter member to lead the other. His friendly and welcoming demeanor promotes a fun trail experience, regardless of the weather, and is largely responsible for attracting many participants from near and far – which over time has increased Chapter membership. "If you don't bring a friend, at least one will be provided." He frequently distributes "nippers" to hikers as well, encouraging simple trail maintenance along the way. He also always carries a trash bag, just in case. Bob is an outstanding Trail ambassador for the NCT.
Who from your local Chapter, state or region do you want to celebrate? Nominate them for an NCTA Award! Nominations for 2022 NCTA Awards closed as of May 1, but awards are annual. There is also the option for Chapter Honor Awards.