Kent/Barry county line northeast of Middleville to the Calhoun/Hillsdale county line
The Chief Noonday Chapter invites you to join us for our monthly group hikes, our monthly Chapter meetings (sometimes with speakers), and our monthly work sessions on the Trail. If you are looking for volunteer opportunities, we can use your skills or help you develop new ones!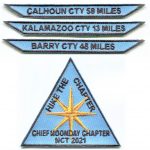 Hike the County Challenge
The NCTA Chief Noonday Chapter of the North Country National Scenic Trail covers 119 miles in three different counties. The challenge is to hike the Trail through one, two, or all three counties during the calendar year. There is no charge; simply register and report your progress: hikethecounty@gmail.com. As you complete each county, send us your name (and trail name if you desire), address, email, and phone number to receive your patch. Email hikethecounty@gmail.com with questions.