Project Spotlight: Arrowhead Reroute Begins
In the late 80s and early 90s, Minnesota volunteer leaders approached the National Park Service (NPS).
In the northeastern part of the state, the North Country National Scenic Trail's (NCNST) route was far from ideal. Due to extensive wetlands in the Floodwood area, trail leaders were instead hoping the North Country Trail (NCT) could instead head up through the Arrowhead region. The NPS began studying this "Arrowhead Reroute" in 1998 and completed their Draft Northeastern Minnesota Route Assessment and Environmental Assessment (EA) in 2004, recommending the route change. NPS leadership decided this route change was significant enough to need Congressional action. Unfortunately, it wasn't until March 2019 that the legislation finally made its way through Congress. Our Trail Community celebrated that success in Duluth back in May 2019.
Since then, the North Country Trail Association's (NCTA) focus has been on implementing the Arrowhead Reroute, working with partners in Cass and Itasca Counties, as well as extending the Kekekabic Trail / NCT into Ely in St. Louis and Lake Counties.
What has the NCTA Arrowhead Chapter been up to since the reroute passage by Congress?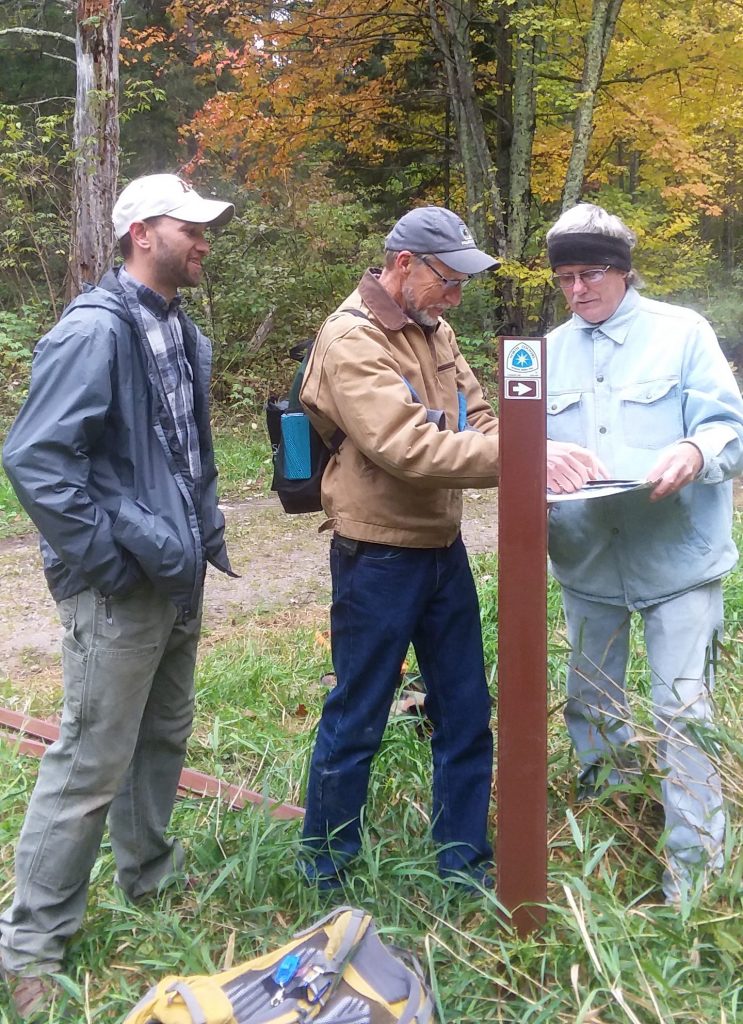 The Arrowhead Chapter has marked some existing trails in the Grand Rapids, Minnesota area as official parts of the NCT, including trails on the University of Minnesota's North Central Research and Outreach Center (NCROC) property and their Prairie River Trail. (For a map of this area, visit bit.ly/3efByb9.) The Chapter has also developed a new 18-mile route from State Highway 6 northeast of Remer to Tioga Beach in Cohasset that would replace an 11-mile roadwalk on the current route. Most of this route lies on lands managed by UPM-Blandin, the Itasca County Land Department, and the Minnesota Department of Natural Resources.
"This new segment provides a great opportunity for many residents and hikers throughout the area to witness the entire process of identifying, blazing, and building part of a national trail," explained Michael Carson, NCTA Arrowhead Chapter President. "Many people I have discussed the Trail with were previously unaware of its presence through the county and had no idea that we were a vital part of the larger, 4,700-mile Trail system. This project will provide a great showcase to spread our mission and joy for the outdoors to others in the Grand Rapids community. In addition to being a huge improvement from the roadwalk, this section highlights many interesting ecosystems and geological sights found in our post-glacial northern forests that every hiker will enjoy."
Michael went onto explain, "I think this segment is particularly meaningful as it will bridge the gap between the existing trail systems in Grand Rapids and the Chippewa National Forest (CNF) near Remer. The CNF trails have been around for several decades, and I think the connection between Grand Rapids to that system will serve not only as a physical conduit between the two, but it will also serve as a symbolic bridging of old existing trail with new, Congressionally approved reroute. It is my hope that it will stoke more energy into our volunteer base and agency partnerships to keep exploring and building primitive footpaths to finish the remaining trail segments in our region."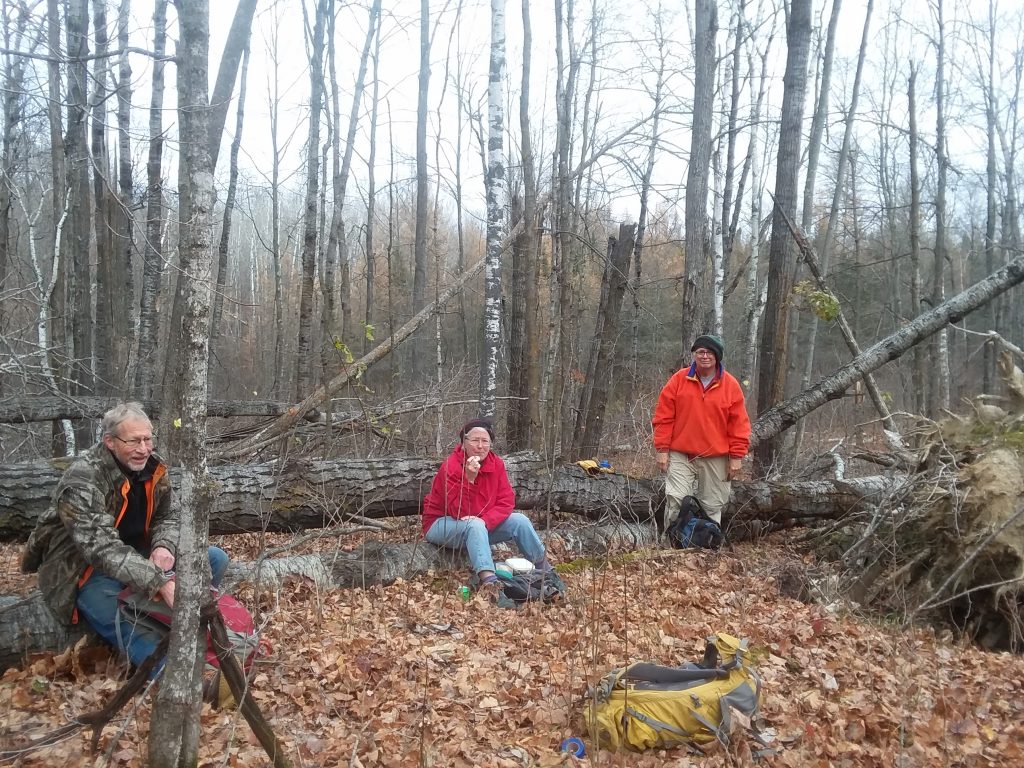 The NCTA has also started working with the Chippewa National Forest on route options connecting the existing NCT with Highway 6 in Cass County to tie in with this Highway 6 to Tioga Beach project. Another project has been collaborating on identifying route options north of Grand Rapids, working with the Arrowhead Regional Development Commission's planning staff. Learn more about this effort at ardcplanning.org/nct. New Arrowhead Chapter volunteer Cavour Johnson of Grand Rapids has started exploring potential Trail routes in the field in between County Highway 7 and State Highway 65, and meeting with locals in the Bear Lake area.
Where can I read more about the project proposal?
Steph Liguori, the NPS National Environmental Policy Act (NEPA) Specialist, has recently completed a draft Environmental Assessment (EA) that details the expected environmental and social impacts resulting from the project, and includes mitigation measures that would be employed to minimize impacts resulting from trail construction. The draft EA will be available on the NPS Planning, Environment and Public Comment (PEPC) website between May 20 and June 19, 2021.
"The NPS places a high importance on public involvement in the NEPA process and providing opportunities for the public to weigh in on the environmental impact analysis," explained Steph. "Any interested persons are welcome and encouraged to read the draft EA and provide comments."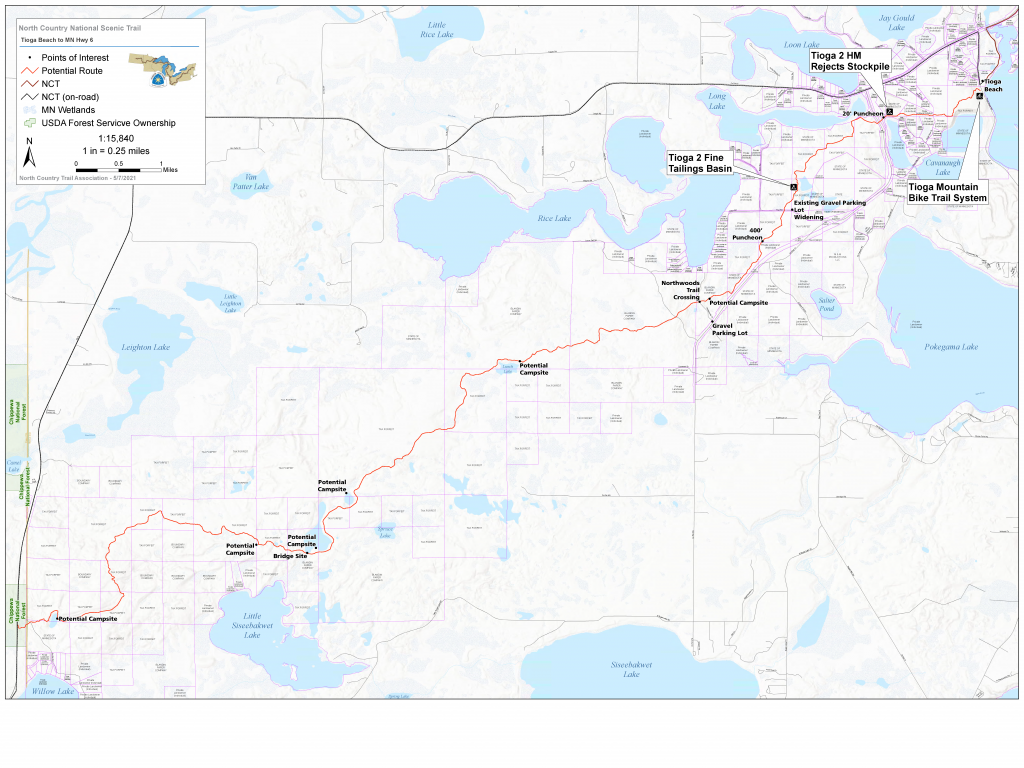 How can I weigh in?
The NPS will be holding a 30-day public comment period on the EA between May 20 and June 19, 2021. During this time period, comments can be submitted on the NPS PEPC website or mailed to Steph Liguori at the North Country Trail's NPS office: 318 East Main Street, Suite K, Lowell, MI 49331.
The NPS and NCTA will also be hosting a hybrid in-person/virtual public meeting on Thursday, June 3 from 6:00 to 7:30 p.m. (CST). The in-person will be at Itasca Community College in Grand Rapids (Johnson Hall, Room 112-113), and the virtual will be via Zoom (passcode: NCT). The purpose of the meeting will be to share more information on the project and the EA, and to solicit public comments.
How can I help out? 
The Arrowhead Chapter anticipates starting to clear this new route this fall, 2021, following completion of the NPS's NEPA review. This work entails clearing downed logs, mowing brush, and blazing, and will be followed by trail tread construction. The NCTA hopes to hire crews from the Conservation Corps of Minnesota and Iowa to help with that work. Volunteer opportunities once construction starts would be abundant. Anyone interested in learning more about volunteering should visit the Volunteer Resource Center and consider submitting a Volunteer Interest Form. People may also contact the Arrowhead Chapter at arw@northcountrytrail.org, and follow the Chapter on Facebook or Meetup.