Steinberg Family: Hike 100 Challenge
"We love that it gives our family an attainable goal and that it promotes togetherness on the Trail."
The Steinberg family of four (plus a couple four-legged companions) from Rochester, Minnesota completed their Hike 100 Challenge this April, having taken advantage of the #hikefromhome rule change NCTA issued due to the Coronavirus pandemic.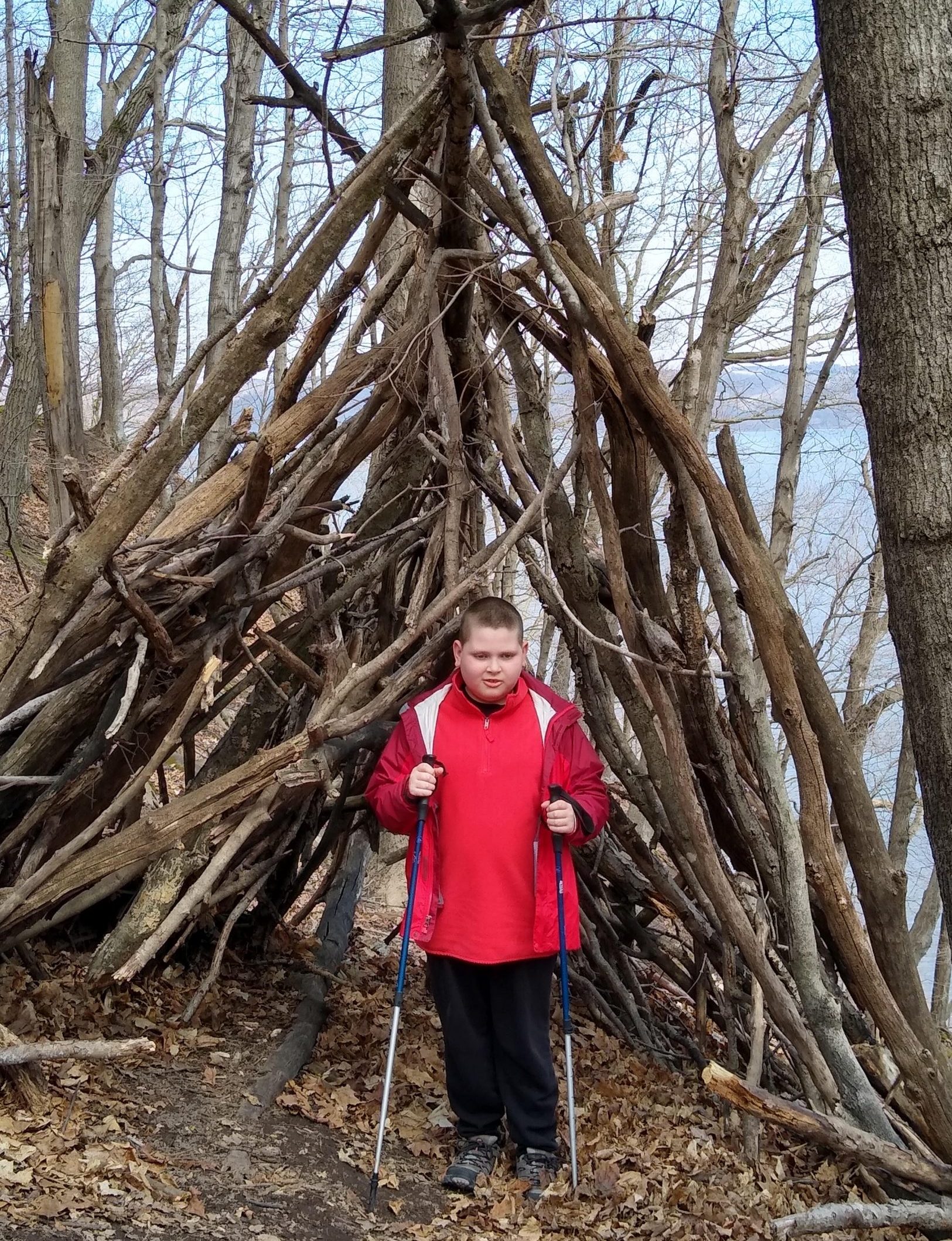 "Sam loves 'being in nature, sleeping in the forest, and getting a new circle patch,'" wrote Jen Steinberg, when asked what they love most about Hike 100. "I love being able to get to know my son as an individual in a setting where he feels at ease enough to easily articulate his thoughts and feelings. Until last year, we hadn't experienced that with Sam. For individuals who have autism, the world is often overwhelming – noisy, crowded, odiferous. Being in nature, when Sam hikes, he is able to listen and feel 'nothing and be [himself].'"
Most of the family's miles were hiked locally in Minnesota, but they also ventured into Wisconsin to explore Perrot State Park.
"We discovered the Trail last year while doing the Lake Superior Circle Tour in a car, and fell in love," wrote Jen. "We hope that we are able to do more miles in Michigan soon."
One main goal of the Hike 100 Challenge is to encourage physical activity in the outdoors. When the pandemic caused widespread restrictions to travel, events and even access to recreation, #hikefromhome was initiated. Jen explained how grateful they were for that rule change:
"The pandemic has closed all of the schools in our state, and we hike daily, not only for physical education, but to run errands in town (one parent, two boys, and two pugs wait outside), and also on the trails whenever we can. We are so lucky to live in a city with 85+ miles of multi-use trails!"
Participating in the Hike 100 Challenge also allows for discovery of new places and enhanced exploration of familiar ones.
"I would honestly say that my favorite 'hike in place' hike is our every-other-day walk downtown to do the rote, mundane errands that we took for granted before," wrote Jen. "We talk and walk, and yell 'hi!' at people who look in our direction for a little too long. We are getting to know the city and the people in it, in a way that we didn't before. I'm not sure whether the pandemic has anything to do with it, but people seem to be craving emotional connection while requiring physical distancing, and seeing the same people walking over and over in the same general area begin to become chummy. I guess you could say that we are beginning to have an in-town, hike-in-place, trail family."
We extend many congratulations to the Steinberg family on their commitment and accomplishment. We hope they inspire you!
Learn more about the Hike 100 Challenge at northcountrytrail.org/hike-100-challenge. You can also sign up for the challenge to gain exclusive access to resources and monthly giveaways, and fill out your completion form from here, too.