The scenic lakeside town of Petoskey, located on beautiful Little Traverse Bay, was named after the Odawa Tribal Leader Ignatius Petoskey. It has been called the "land of the million dollar sunsets" since 1873.
The Petoskey name was also adopted for Michigan's state stone, a fossilized coral found in abundance both along the lakeshore and inland. By the summer of 1874 the railroads were making regular runs between Grand Rapids and Petoskey. It was officially granted a charter in 1879, and it quickly grew into a resort community that remains a popular tourist destination to this day.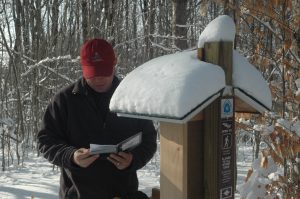 Long-distance hikers approaching Petoskey from the south will view Lake Michigan for the first time at an overlook on the Skyline Trail section. Shortly thereafter the Trail links up with the Bear River and follows it to its convergence with Lake Michigan through the Bear River Valley Recreation Area, a noted whitewater kayaking venue. From the river mouth, the Trail heads east through scenic Bayfront Park.
Hikers can easily access the downtown shopping district via an underpass near Bayfront Park. In addition to many great places to eat, hikers can shop for food at the Grain Train Natural Foods Market, which boasts a great bulk foods section for gorp! Other downtown businesses include Bear Cub Outfitters, two independent booksellers, several banks, post office, Meyer Ace Hardware, Dave's Boot Shop, Latitude 45 Bike Shop and a library. Further along the bay the Trail goes right behind another shopping district with a larger grocery store, Rite Aid, laundromat, and a bike/running gear store (High Gear Sports).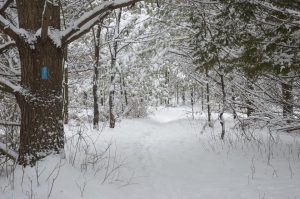 Just after this shopping area hikers will find the Petoskey State Park with lots of camping options. A little farther north of the state park, hikers can quench their thirst at Petoskey Brewing Company, a local microbrewery. Hikers ready for a softer sleeping surface or a little tent drying will find a variety of motels, hotels and B&B options right along the Trail, as it parallels highway US-31. Hikers who enjoy the beauty of wooded hills, water and dunes will not be disappointed with a layover in Petoskey, a thriving tourist community nestled on the shores of Lake Michigan among some of the most beautiful scenery nature has to offer.
The Jordan Valley 45° Chapter is responsible for the North Country Trail section through Petoskey.
Additional Resources
Header photo by Dove Day