NCNST Day Canoe, Potluck, and Paddle, Brule-St. Croix Chapter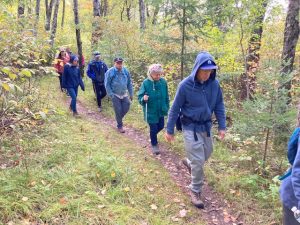 Come celebrate North Country National Scenic Trail Day with the NCTA Brule-St. Croix Chapter!
The day will start with some canoeing with canoes, life jackets, and paddles provided by the Canoes on Wheels program. We will canoe on Upper St. Croix Lake. Please meet at Palmer's Landing near the boat landing at 10:00 a.m. (Note: there is an artesian well at the landing.)
Please bring a dish to share (and serving utensil if needed) for the potluck picnic to follow. The Chapter will provide plates, utensils, etc. After lunch, we will hike the Brule Boardwalk and return for about a four-mile hike. All activities will originate at Palmer's Landing at the original meeting location.
The address for Palmer's Landing / St. Croix Lake Landing is: 10625 County Road A, Solon Springs, WI. You will pass the St. Croix Lake trailhead when heading to Palmer's Landing. We will meet at 10:00 at the landing; look for the red canoes.