Hike 8: Chequamegon Chapter Hike Series
Date/Time:
Aug 10
9:00 am - 2:00 pm
See all events at:
Kornstead Road Trailhead
Categories:
This hike is the eighth in a series of nine that will traverse the section of the North Country National Scenic Trail (NCNST) maintained by the NCTA Chequamegon Chapter. The Trail here was built by U.S. Forest Service personnel and Job Corp employees in 1967 and 1968. It is the original "North Country Trail." These weekly hikes, on Wednesdays, from June 15 through August 17. (There was no hike scheduled for July 6.)
Please register for any hikes you plan to attend by sending the hike number(s), your name, and email address to che@northcountrytrail.org.
This is a 7.3-mile, one-way, eastward hike on a dirt tread in mostly rolling terrain, at times following the USFS Penokee Ski Trail, and ending 2.5 miles west of Mellen, Wisconsin. The Trail passes through a mix of hardwood and pine forest, crosses North York and Quarry Roads, and passes through the Penokee Mountain Ski Trailhead at City Highway GG to Kornstead Road, west of Mellen. There will probably be short wet or muddy sections.
Highlights of the hike include several small streams, a large beaver dam system, and an abandoned homestead. Remnants of an orchard can also be seen as we approach the end of the hike. Hiking speed will be moderate at 2 miles per hour, depending on the terrain, with a short break every hour and 30 minutes for lunch at the Penokee Ski Trail Shelter, which is roughly halfway. The hike is limited to 18 participants.
Expect mosquitos, flies, and ticks. A brimmed hat, long-sleeved shirt, and long pants treated with insect repellent are recommended. Bring plenty of water and your own lunch and/or snacks.
This section of Trail is not accessible for people with mobility impairments. There is a USFS pit toilet at the ski trailhead at mile six of the hike. We can also break here for anyone who wants to take in the view from the USFS Overlook. Cell phone coverage will be spotty.
Meet at the trailhead on Kornstead Road west of Mellen. In Mellen, take Hillcrest Drive west, this street becomes Kornstead Road/Forest Road 390 (see Avenza Map NCT WI-25). The trailhead is located 2.5 miles west of State Highway 13. Most of the cars will be left here, several will be used to shuttle hikers to the start of the hike on Hanson Road. This shuttle will take 20 minutes. At the end of the hike, cars will need to take shuttle drivers back to their cars where the hike began on Hanson Road.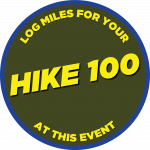 Add to Calendar