Hike the County, Kalamazoo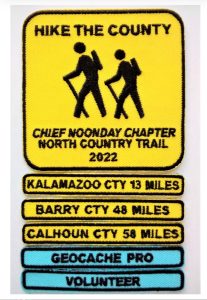 The NCTA Chief Noonday Chapter has a unique, three-county challenge. We offer patches for each of the Michigan counties completed: Barry, Kalamazoo, and Calhoun. On this day, we will hike Kalamazoo County and all participants that complete this 13-mile hike will be eligible for a completion patch.
We will meet at the Kellogg Biological Station Farm Pasture Dairy Center off Baseline Road. We'll travel past Kellogg Bird Sanctuary, through some great changes to Kellogg Forest, to the beautiful Augusta Overlook to Fort Custer Trail that is wetland and fragrant pine forest.
We will have volunteers to drive hikers back to vehicles. Bring plenty of water, proper clothing for the weather, and insect spray.