Second Annual Salmon Run Hike, Central Flyway Chapter
Date/Time:
Oct 16
2:00 pm - 5:00 pm
See all events at:
Lake Sakakawea State Park
Categories: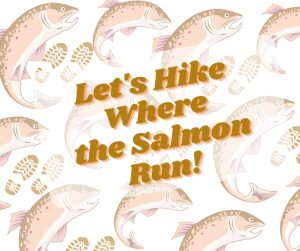 The NCTA Central Flyway Chapter and the Garrison Dam National Fish Hatchery are cosponsoring a guided hike.
The hike is approximately five miles long and begins at Lake Sakakawea State Park by the Western Terminus sign for the North Country National Scenic Trail. The hike will follow the blue blazes of the NCNST within the park boundaries and then exit the south end of the park. We will be crossing Highway 200 and then dropping down onto the Hatchery Road. From there the hike will follow the newest section of the NCNST which leads us across hatchery property and onto the trails within the Garrison Dam Fish Hatchery.
If you are interested in doing a shorter hike that would still be along the new section of the NCNST, you can join us at the fish cleaning station as we come from Lake Sakakawea State Park. The fish cleaning station is located along the Hatchery Road below the dam. We will have signs identifying that area.
As we hike in this area we will have the opportunity to watch the salmon running in the streams throughout the hatchery. Each fall the chinook salmon return to the hatchery waters to spawn.
For the longer hike, meet at the Lake Sakakawea State Park (LSSP) Visitors Center on 42 1/2 Avenue NW in Pick City
For a shorter hike, meet at the fish cleaning station off of Garrison Dam Road
Add to Calendar