My NCT 2022
Volunteers are the heart and soul of the North Country Trail Association. When giving one's time, a life-changing connection is made between the individual and the Trail itself. Now is the time to renew your commitment and double your impact. Throughout September, during the 2022 My NCT Membership Drive, all new and renewed memberships are being matched dollar for dollar up to $25,000, thanks to the generosity of four of your fellow members.
This year we're thrilled to feature custom artwork, created in collaboration with Minnesota illustrator Jordan Sundberg of Tin Cup Design Co., on an Original Buff® as one "thank you" gift for those joining or renewing their membership* this September.
"I want the NCT to be here for a very long time and for folks all around to partake in the life-giving gifts the Trail offers," Jordan said. "I had the most wonderful opportunity to create eight unique pieces illustrating an NCT scene from each state on the Trail. As I worked away, I imagined folks in each part of the NCT country taking in the power and peace of nature."
Join or renew at the Individual or Family level to receive an official 2022 NCTA Member sticker.
Join or renew at the Trail Scout level to receive the Buff® featuring custom artwork.
Join or renew at the Trail Angel level to receive a limited edition, stainless steel, Opinel® folding knife.
Join or renew at the Trail Builder level to receive all three gifts.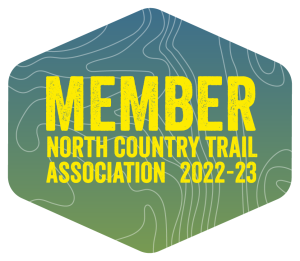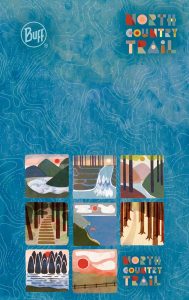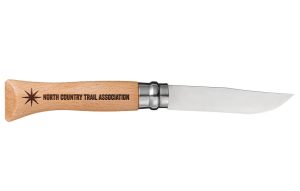 Learn more about the available membership levels at northcountrytrail.org/membership.
Few things evoke emotion in the same way that spending time on the North Country Trail (NCT) does, and that making a connection with a work of art does. The North Country Trail Association launched the My NCT program in 2020 as a means to bring art and nature together in the telling of our story, and the connection our Trail Community has with it.
"We have been talking for years about the need for a more graphic representation of the Trail," explained Andrea Ketchmark, NCTA Executive Director. "An artist's take on what makes each state along the North Country Trail special and tying that all together in one beautiful image."
The My NCT program incorporates the promotion of the North Country National Scenic Trail and the NCTA through an artist's visual interpretation of it. The piece selected is displayed through the NCTA for 16 months before it is retired.
Header image by Eric Campbell