Lisbon, Ohio, the county seat of Columbiana County and the second oldest village in Ohio was established in 1803 by Baptist Minister, Lewis Kinney.
It lies in a beautiful valley, surrounded by partially wooded hills along the Little Beaver Creek. This section of the North Country National Scenic Trail parallels the Sandy Beaver Canal, generally following the route of the Sandy and Beaver Canal System through Columbiana County.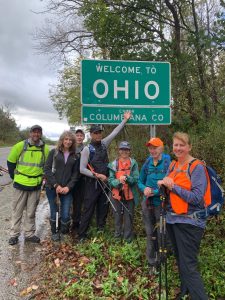 The Old Stone House built in 1805 originally used as a hotel and tavern is listed on the National Register of Historic Places. Today it is used as the National Historical Society. The first Newspaper in the county, the Ohio Patriot, was established in 1808 and the first Post Office was established in 1809.
The first iron furnace in the state of Ohio was constructed in 1808. The Sandy and Beaver Canal was the last portion of the Ohio Canal System to be constructed in 1828 in order to increase business accessibility. In 1846, two flour mills, two iron foundries, two woolen factories, as well as carriage and leather processing establishments, existed in Lisbon. The development of the Niles and New Lisbon railway in 1866 created jobs and allowed families to grow. The railway allowed for easier commuter transportation as well as the movement of goods and textiles. This industrialization helped bring Lisbon to life and further its development. The Columbiana County Courthouse built in 1870 and was remodeled in 1933 using large blocks of stone salvaged from the old locks of the Sandy and Beaver Canal.
Lisbon was officially recognized as a NCTA Trail Town in a dedication ceremony on September 19, 2022. The NCNST follows the route of the 1928 Lincoln Highway as it passes east to west through downtown Lisbon. As a trail town, the businesses and residents embrace the thru-hikers by providing lodging, camping, shopping, food and other resources.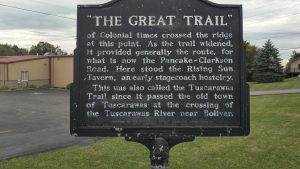 Lisbon hosts a number of events during the year to connect people with their town history. In late summer the annual Columbiana County Fair takes place. This fair has been around since 1845 and the grounds have been expanded over the years totaling about 90 acres. This week-long event features activities, such as truck and tractor pulls, harness racing, demolition derby, and various food eating contests, just to name a few. The third week in September is the famous Johnny Appleseed Festival. This festival is to honor a great and selfless man, John Chapman, who performed numerous acts of kindness. Historians believe that John Chapman planted some of his first apple seeds in Columbiana County. This week-long festival features everything "apple" and invites residents from all over to learn about the famous John Chapman.
The NCTA Wampum Chapter is responsible for the NCNST section through Lisbon, Ohio.
Additional Resources:
Days Inn by Wyndham Lisbon
Save A Lot Grocery Store
Smith Oil Gas Station
Rite Aid Pharmacy
U.S. Post Office