The City of Mellen has been the key connection between Copper Falls State Park and the North Country Trail in the Chequamegon-Nicolet National Forest for many years.
Mellen is proud to have been named Wisconsin's first Trail Town by the North Country Trail Association in 2013. Original urban North Country National Scenic Trail signs were installed in 2008, and a revitalization of the City of Mellen Hike and Bike Trail started in 2009. The Hike and Bike Trail is a certified section of North Country Trail that runs along the scenic Bad River. Strategically placed benches take in the view of the Bad River and occasional sightings of geese and ducks that frequent the area. A 370-foot raised boardwalk was completed in 2016 on the Trail leading to Copper Falls State Park, along with a new bridge and wooden puncheon.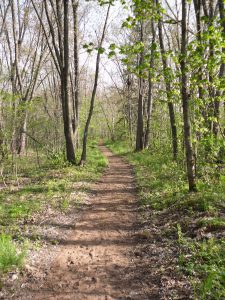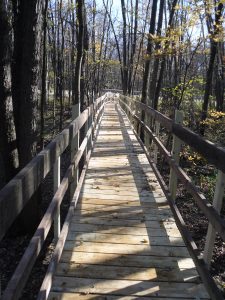 Mellen was established in 1886 and is the second oldest city in Ashland County.
Located just 25 miles south of Lake Superior and the City of Ashland, Mellen is situated near the Penokee Mountain Range and the Bad River that flows east to the well-known Copper Falls State Park and Loon Lake. The historic Mellen City Hall was built in 1892 and is located along the city portion of the North Country Trail, and has a museum on the upper floor. Mellen is a small, friendly town that offers a great stepping off point for your next great outdoor adventure.
In addition to several restaurants, gas stations and other amenities along the Trail in Mellen, you will find areas for resting and picnicking such as Jasper Landry Square, John McLaughlin Park, and a library. The measure of a city can be easily gained by what a visitor has to say. In 2009, a thru-backpacker on the North Country Trail, Niblewill Nomad (Eb), passed through the City of Mellen. His journal entries for Mellen are filled with helpful smiles and lasting memories. What a testament to the people of Mellen and the Trail that passes through it!
The Chequamegon Chapter is responsible for the North Country Trail section through Mellen and the Chequamegon-Nicolet National Forest to the west of Mellen.
Learn more about visiting Mellen via the Chamber of Commerce's website and via Travel Ashland County.
Header photo by Marty Swank.