Chequamegon Fun Hike: Delta Road to Rainbow Lake
Due to the high probability of thunderstorms on August 2, this hike has been rescheduled to August 3.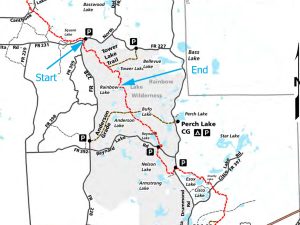 Join the NCTA Chequamegon Chapter on this a pleasant hike through the Rainbow Lake Wilderness featuring Tower Lake, Rainbow Lake, and user-made campsites at both lakes.
Meet at 9:00 a.m. on Thursday, August 3 at the North Delta Road (FR 228) trailhead, northwestern entrance for Rainbow Lake Wilderness. The hike leader is Mel Baughman. While these hikes are not planned to be interpretive hikes, Mel is a retired professor of forestry and he usually has something interesting to share about forest ecology.
You can access West Delta Road by taking Delta Drummond Road to Reynard Lake Road (westbound) to North Delta Road (northbound) or from Highway H, just west of the Delta Dinner. (See map above and/or Avenza Map WI-017.)
Dress for the weather and bugs, wear a hat, bring bug repellant (perhaps a bug net), water, lunch, and a snack.
Please check the NCT in Wisconsin Facebook page for information about cancellations / postponements. This information will be posted after 6:00 p.m. the day before the hike.