Chief Noonday Chapter: Hike Honoring Veterans
Date/Time:
Nov 12
9:30 am - 12:00 pm
See all events at:
Fort Custer Trailhead
Categories:
Join our Chief Noonday Chapter on November 12th at 9:30am in honoring our military for their service and sacrifice. Our Veterans Hike will take place through the grounds of the Fort Custer National Cemetery just outside of Augusta, MI.
Chief Noonday Chapter members encourage Veterans and anyone wanting to honor our veterans to join us on the 12th as we walk past peaceful waters, over a refreshing stream, and through mature forests.
Many of our veterans seek out healthy activities. Too many others deal with depression and suffer with issues closing them away from the outside world.
Sadly, the numbers of suicides among our veterans speaks for itself. In 2020, the suicide rate for Veterans was 57.3% greater than for non-Veteran U.S. adults. Many more veterans are dealing with debilitating depression. Research has shown that exercise such as hiking can play a key role in significant improvement of depression.
We will meet at the trailhead located close to 15300 Fort Custer Dr. Turn NORTH off M-96, (Dickman Rd.) just across from the entrance to the State Park.
Our Chapter is planning two out-and-back hikes. A short hike of 2.9 miles and a long hike of 6.0 miles. Even if hiking is new to you, be assured, you may turn back as desired. Our first ¼ mile brings us to a bridge over a flowing stream – a place of quiet beauty! Both hikes start at the same time and place.
Many of our hikers will choose to continue to socialize and you may want to join us after the hike at a local restaurant for refreshments.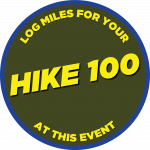 Add to Calendar