Lowell is a charming community in West Michigan where the Grand River meets the Flat, a wide winding river known for its smallmouth bass fishing and bald eagle sightings.
Once inhabited by a village of Ottawa Indians, Lowell's history involves fur traders, flour makers, and influence from great Americans such as Henry Ford and President Gerald Ford. The North Country Trail through Lowell and the surrounding area provides a great recreational resource to the community and makes Lowell attractive to visitors from across the state and the country. In return, Lowell provides plenty of amenities to replenish hikers on their way down the Trail.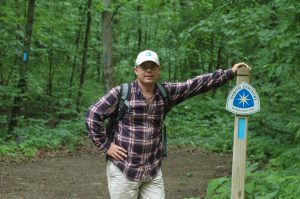 Lowell is also home to the North Country Trail Association National Headquarters and the National Park Service. The NCTA staff are always ready and willing to provide hikers with information, internet access and bathrooms. Check out the Trail Shop while you are here, as well as the mural on the side of the building. In 2013, LowellArts! teamed up with Grand Rapids artist Erwin Erkfitz and a group of Lowell High School students to design build and paint three large outdoor murals reflecting the mission of the North County Trail Association.
Along with the North Country Trail, Lowell is home to several other local and regional trail networks, making it a true Trail Town. Check out the Lowell Area Trailway and the the Fred Meijer River Valley Trails. Lowell is a vibrant community with a calendar full of events for all ages.
Lowell is one of Michigan's premier North Country Trail towns. Use the map to hike more than eight miles of the NCT from the Lowell area. Enjoy a stroll on the Lowell Riverwalk, a hike through stands of red pine and maple with overlooks of the Flat River, or a picnic at Fallasburg Park.
The Western Michigan Chapter is responsible for the North Country Trail section through Lowell.
Additional Resources
Header photo by Dove Day