The Trail Town of St. Ignace is your home port for exploring the Eastern Upper Peninsula of Michigan. Your North Country Trail adventure begins at the St. Ignace Welcome Center as soon you cross north over the majestic Mackinac "Mighty Mac" Bridge.
It continues through the Straits State Park into the downtown, where the Huron Boardwalk carries you along the Lake Huron shoreline and travels beyond through 70 miles of the Hiawatha National Forest. St. Ignace is proud to be the first NCTA Trail Town in the Upper Peninsula. Hikers experience whispering pines and vibrant wetlands, skirt lakes and streams, stroll atop ancient sand dunes and along the Niagara Escarpment to the Lake Superior shore. All four seasons offer nature at its best, first hand and up close. The North Country Trail is easy hiking and accesses abound from parking areas to USFS roadways. Michigan's second oldest city is steeped in history. Explore the history of the area by visiting the Museum of Ojibwa Culture and the Fort DeBuade Museum, both located in downtown St. Ignace. Admission to both museums is by donation.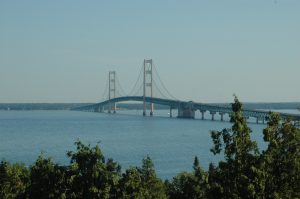 Spring offers nature study, photography, and especially birding for area adventurers wandering the woodlands and waterways. Birding east of St. Ignace is phenomenal. Raptors and song birds stop for rests in their flights across the Straits of Mackinac. All summer long St. Ignace invites you to enjoy the North Country Trail during the day, and your evenings in the downtown area with family activities every night of the week along the Huron Boardwalk. For a complete list of nightly events such as music, fireworks, outdoor movies, guided historical walking tours, visit the Chamber of Commerce. They can also help Trail adventurers schedule their vacations around weekend festivals and celebrations that take place throughout the year. St. Ignace offers a wide range of motels, hotels, B&B's, restaurants, and tourist attractions. There is something for everyone.
Fall is glorious in St. Ignace and along the North Country Trail. The woodlands are ablaze with color. Bring your hiking shoes and your cameras. Drink in the color along lakeshores and streams. Winter adventurers will find abundant snowshoeing and cross-country skiing options. The Trail in this area is not groomed so you are often breaking your own trail for a true Northwoods outdoor experience. The Lake Michigan Sand Dunes area has groomed trails of varying skill levels. The frozen lakes are great for snow sailing and skiing.
The North Country Trail exists as much for the enjoyment of the casual walker as it does for those who will travel its entire length. Whether you use it for an afternoon, a day of snowshoeing or several days of day packing, you will find your adventure as you encounter and explore forested pathways, marshes and bogs, waterways and lake shores, sand dunes, and geologic Ice Age features.
The Hiawatha Shore-to-Shore Chapter is responsible for the North Country Trail section through St. Ignace.
Header photo by Dove Day.