Walker is a small city in north-central Minnesota, located on Walker Bay along the shores of the state's third largest lake, Leech Lake. Walker is the hub of an outdoor recreational mecca featuring the Heartland and Paul Bunyan State Trails, and the Shingobee Connection Trail, the Chippewa National Forest, and the North Country Trail.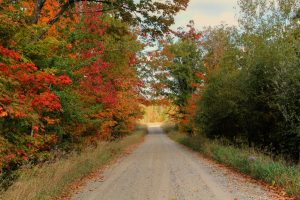 The City of Walker became the second designated NCTA Trail Town in Minnesota in 2014. Walker was incorporated in 1896 by Patrick McGarry. McGarry hoped to lure lumber magnate Thomas B. Walker, founder of the Red River Lumber Company, to build a pine sawmill in the town. Instead, Walker sited his sawmill in Akeley because of his wife's objections to Walker's rough "frontier nature." Walker next became a tourist destination and the site of Ah-Gwa-Ching, a state run residential facility for tuberculosis patients.
The North Country Trail passes within six miles southwest and seven miles southeast of Walker, and hikers can reach Walker on the shore of Leech Lake, the state's third largest, via the Paul Bunyan and Heartland State Trails, and the Shingobee Connection Trail. Despite being a city of only 1,000 residents, Walker is a popular year-round tourist destination and features a vibrant business community. Walker offers long-distance hikers many opportunities to restock their supplies before they head back out on the Trail. For the last 30+ years, Walker has hosted the Walker North Country Marathon – part of which is run on the North Country Trail in the Chippewa National Forest each September.
Learn more about the Walker area at the Leech Lake Area Chamber's website or Leech Lake Tourism website. Learn about the Leech Lake Band of Ojibwe via their website.
The Itasca Moraine Chapter is responsible for the North Country Trail section nearest Walker.
Header photo by Jerry Eklund