Blake Wirts: Hike 100 Finisher
"Hiking has helped me get through quarantine and gave me something fun to do and look forward to every week."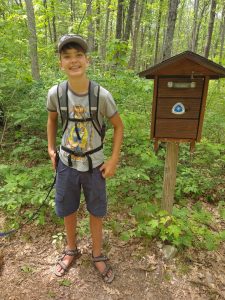 Blake Wirts, 13-year-old from Grant, Michigan, recently completed his Hike 100 Challenge. All of his miles were in Michigan, not too far from his home.
The Rogue River area is one of his favorite hikes and is a special section to Blake. He explained, "It's so beautiful and it's the first place I hiked. I'm thankful to the Schuitema family for introducing me to hiking and taking me and my family along with them.
Blake's most challenging hike was his first double-digit mileage day, a 10-mile hike! He shared, "It was worth it! Hiking has helped me get through quarantine and gave me something fun to do and look forward to every week."
One hundred miles is just the starting point for Blake. He's already halfway through his second 100 miles for 2020. But he has even bigger goals. "I'd love to hike the trails in the Upper Peninsula. It's a dream of mine to hike the whole NCT."
We are cheering you on, Blake! We can't wait to hear about the day you finish the NCT.
For a recent school project, Blake wrote a narrative poem about his Hike 100 Challenge. He said the teacher gave him an A, so she must have liked it! We think it's great and are so happy he shared it with us all.
We jumped in the car, it was a beautiful day.
When we got to the North Country Trail we started hiking away.
The trees were as big as skyscrapers
And the leaves were as big as dinner plates.
I could feel the leaves crunch under my feet
And I could hear the squirrels munch in the trees.
It feels like we have been hiking for millions of miles
But I won't give up.
I have to keep going to walk my one-hundred miles.
I just have to keep walking and walking and walking…
I had 3 miles left when we saw a stream that looked cold
The small rocks in the bottom almost looked like gold.
I had 1 mile left, my body ached and I was tired
And my legs shook, and my feet were on fire.
But I won't give up, I didn't give up!
I had finally done it!
I walked 100 miles!
I never gave up and now I have 100 smiles.
— Blake Wirts