ANF Second April Workday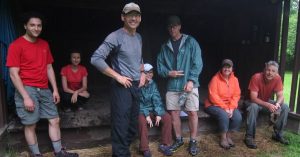 Join the NCTA Allegheny National Forest Chapter for our first March workday! Meet no later than 10:00 a.m. at the Amsler Springs trailhead (GPS coordinates 41.46975, -79.19943). The trailhead is located along Salmon Creek Road / Forest Road 145, about 1.25 miles north of Guitonville Road.
We'll be clearing trail and building turnpiking. (Turnpiking is building up the trail with gravel that is placed between two logs.) Please wear appropriate clothing for the weather, and bring your own water, food, and work gloves. If you want to help stain, wear painting clothes. All tools are provided and no special skills are needed. We encourage people new to trail work to come out and give back to the Trail. There will be a job for you and a person to teach you what to do. Remember that "many hands make light work." Hope to see you there!