ANF-KTA Tracy Ridge Trail Work
The Keystone Trails Association (KTA), working with the NCTA Allegheny National Forest Chapter and the U.S. Forest Service, will be hosting a Trail Care Weekend in Tracy Ridge. They will be focusing on clearing and brushing the trail from the Tracy Ridge hiker parking lot down through Nelse Run and Johnnycake Run. Work will also be done on the trails out toward the lake on the top of the ridgeline and drainage issues along Johnnycake will be addressed.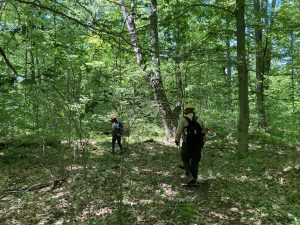 The group will be setting up camp on Thursday and then working on Friday (7:45 a.m. to 4:00 p.m.), Saturday (7:45 a.m. to 4:00 p.m.), and Sunday (7:45 a.m. to noon). Come and help for one or more days. Sign up for the event online at kta-hike.org/8-tracy-ridge.html. Campsites at Tracy Ridge will be provided for those that sign up to participate. More information about KTA Trail Care weekends is available at kta-hike.org/trail-care-program.html and kta-hike.org/faqs-trail-care.html.
The meeting time each work day is 7:45 a.m. in the Tracy Ridge Hiker Lot. To get to the hiker lot from Route 346, turn south on Route 321 and travel about 3 miles to the campground entrance, or from Route 59, turn north on Route 321 and travel about 11 miles to the campground entrance. Once you turn off 321 and into the campground entrance the lot is about 0.5 miles on the left. GPS coordinates are N 41° 56.700' W 078° 52.535'.
Please wear appropriate clothing for the weather, and bring your own water, food, and work gloves. If camping, bring camping gear and food. All tools are provided and no special skills are needed. We encourage people new to trail work to come out and give back to the trail. There will be a job for you and a person to teach you what to do. Remember that "many hands make light work." Hope to see you there!