Black Friday Hike, Chief Baw Beese Chapter
Date/Time:
Nov 25
10:00 am - 1:00 pm
See all events at:
Sandy Beach / Waterworks Park
Categories:
Skip the crowds and stores and #optoutside for this Black Friday hike with the NCTA Chief Baw Beese Chapter.
The hike will start at Sandy Beach on Baw Beese Lake in Water Works Park and follow the NCNST into the town of Osseo and back.
This hike is dog and family friendly. Dogs must remain leashed at all times. This section of Trail is a natural trail following an old railway between Hillsdale and Osseo, passing through woods and country fields.
Location: Hillsdale – Sandy Beach to Osseo
Hike Distance: Approx. 6 miles
Hike Type: Out-and-back
Mile Markers: MI-1139.5 to MI-1142.5
No restrooms are available on-site or nearby. No hunting is allowed on this section of Trail. Bring water and appropriately warm clothing. Cell phone service and wifi is generally available. No fees are required to enter the park or for parking.
Take M-99 (Hudson Rd) south of Hillsdale to Steamburg Road east. Steamburg Road to Griswold Street north. Griswold to Waterworks Avenue east. Waterworks Avenue turn into Lakeview Drive. Take Lakeview Drive through the park to the far east end to the Sandy Beach parking lot.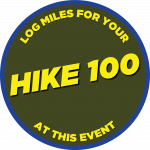 Add to Calendar