Non-Wilderness Clearing Trip, Border Route Trail Association
Give back to the Border Route Trail by volunteering on a Non-Wilderness Clearing Trip!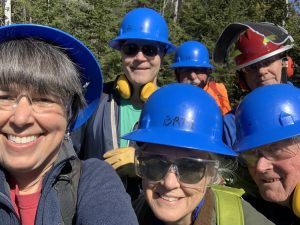 This is a car camping trip on the east end of the trail with Gary Carlson and Pam Tavernier. This section was hit by several heavy snow storms over the winter, so we'll likely end up clearing fallen trees and overgrown brush. We will use chainsaws, hand saws, loppers, and weed wacker brush cutters to complete this work. As an added bonus, we will install new North Country National Scenic Trail signage from the eastern terminus trailhead to the entrance of the Boundary Waters Canoe Area Wilderness near McFarland Lake.
We will provide a few meals to those that participate. Be prepared for cool evenings and moderate day work conditions near the Canadian border. We provide tools, safety gear, two dinners (Friday and Saturday), and two breakfasts (Saturday and Sunday). You will need to bring personal gear (tent, cookware, etc), lunches, snacks, hydration, etc.
We will camp at a designated site along the Arrowhead Trail, near McFarland Lake Campground.