Clendening Lake Work Party, Buckeye Trail Association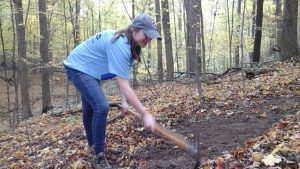 It's Buckeye Trail Association's (BTA) first work party of the year! Join us at Clendening Lake, on shared Buckeye Trail / North Country National Scenic Trail, as we perform heavy trail maintenance, including vegetation management, re-benching trail tread, minor trail reroutes around obstacles, and bucking and limbing of fallen trees. We will work along the north side of Brushy Fork Bay. Chain sawyers needed!
The BTA Chuckwagon will be parked at camp for meals. Breakfast and dinner will be provided, along with plenty of choices to pack yourself a trail lunch (three-day advance registration required). Camping will be available at the BTA Beall Farmstead (83949 Beall Road, Cadiz, OH).
Email bowerston@buckeyetrail.org with questions.