Lynnae Branham, Marisa Hoffarth, and Austin Horning: Volunteer Spotlight
2020 Rising Star Award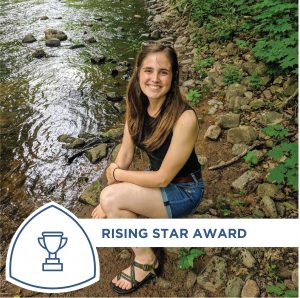 Lynnae Branham. Lynnae Branham was a Northern Michigan University (NMU) student majoring in Environmental Studies and Sustainability. At the beginning of the fall semester of 2018 she approached the NCTA North Country Trail Hikers Chapter regarding her interest in trying to start a club called NMU Conservation Crew. The basis of the club would be to perform conservation tasks … erosion maintenance, trail grooming or building, picking up trash, etc. … to preserve our beloved local lands, but also teach students. Her efforts succeeded, and NMU students have joined the Chapter on several projects. Now that Lynnae has graduated, we remain hopeful that the club will remain active.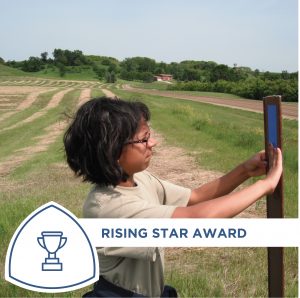 Marisa Hoffarth. Marisa has been active with North Dakota's NCTA Sheyenne River Chapter since she was five years old. Now 11, she has worked on many Chapter projects like boardwalks and signage, with more than 100 hours contributed! She also won honors for her good display about hiking at a regional competition. Watch this Rising Star in the future!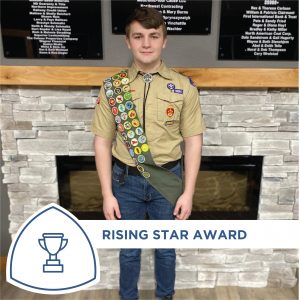 Austin Horning. Austin Horning completed an Eagle Scout project in 2018-19 to develop a new four-mile segment of the North Country Trail within Audubon National Wildlife Refuge in North Dakota. This four-mile segment is the beginning of a new 15+ mile NCT segment within the Refuge. In 2020, the NCTA hopes to finish the remaining 11+ miles and continue the development of a volunteer group that started with Austin's project. It is a rare treat to be able to put a hiking trail in a Wildlife Refuge, yet Austin managed to bring this one to fruition within months of his first phone call to the Refuge.
Who are you proud of in your local Chapter, state or region? Consider nominating them for an NCTA Award! Awards are annual: northcountrytrail.org/volunteer/volunteer-awards.