2022 Blue Blazes Benefactor Awards
NCTA Blue Blazes Benefactor Award recipients are individuals or households demonstrating vision and generosity through significant monetary or in-kind contribution(s) to the North Country National Scenic Trail or the North Country Trail Association.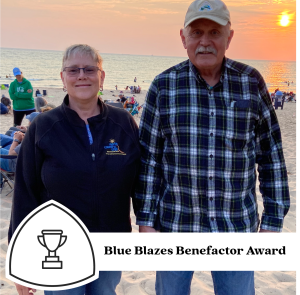 Loren Bach and Dave Martus. Loren and Dave joined the NCTA in 2005. Their love and dedication to the NCNST and the Spirit of the Woods Chapter (Mich.) is impressive. From leading the Chapter to leading hikes, and with Loren in a mentorship role, they have done so much to improve the Trail now and for the future. As a couple, they have logged a few thousand volunteer hours over the years. Loren and Dave were also trailblazers for NCTA's philanthropy. They generously make multiple gifts throughout the year and in 2019, they made the decision to serve as pioneers for the NCTA's monthly giving program, the Mile Makers Club. This once again shows their level of leadership and foresight. Their monthly gift establishes a consistent revenue stream that decreases expenses for the NCTA. Loren and Dave fully understand the importance of preparing and planning for the future, and generously practice it for the Trail Community.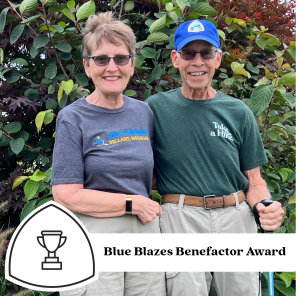 Jim and Eleanor Mitton. Like many, the Mittons' relationship with the Trail began with hiking. At first Jim was the avid hiker, but it wasn't long before Eleanor developed a mutual appreciation for hiking. Eleanor shared that in the early days of the pandemic, they both would go crazy if they couldn't walk outside every day. In 2013, the Mitton's strengthened their commitment to the NCTA by becoming members Western Michigan Chapter. Since that first gift, they have remained faithful and dedicated contributors to this Trail Community. Each year their level of support for the mission grows, and they are now consistent members of the NCTA Founders Circle. The Mittons elect to leverage their IRA for making annual, unrestricted charitable contributions. For Jim and Eleanor, loving the Trail is as natural as taking breath. Jim has been known to tell everyone he meets about the Trail, and he always encourages hikers to stop at the Lowell office to see the NCTA from a new perspective. When asked what makes them so special, Andrea Ketchmark, NCTA Executive Director, shared, "Their kindness and the belief in what we do. Jim and Eleanor show their generosity in spirit in their donations, but also in every interaction."
See all awards categories, past winners, and nomination information at northcountrytrail.org/volunteer-awards.