Annie Nelson: Halfway Thru
Annie Nelson's 2019 Attempt to Hike Half of the North Country Trail
In early 2019, Annie Nelson of Minnesota, "a former journalist turned outdoor junkie," declared that she was going to hike half of the North Country Trail by the end of 2019.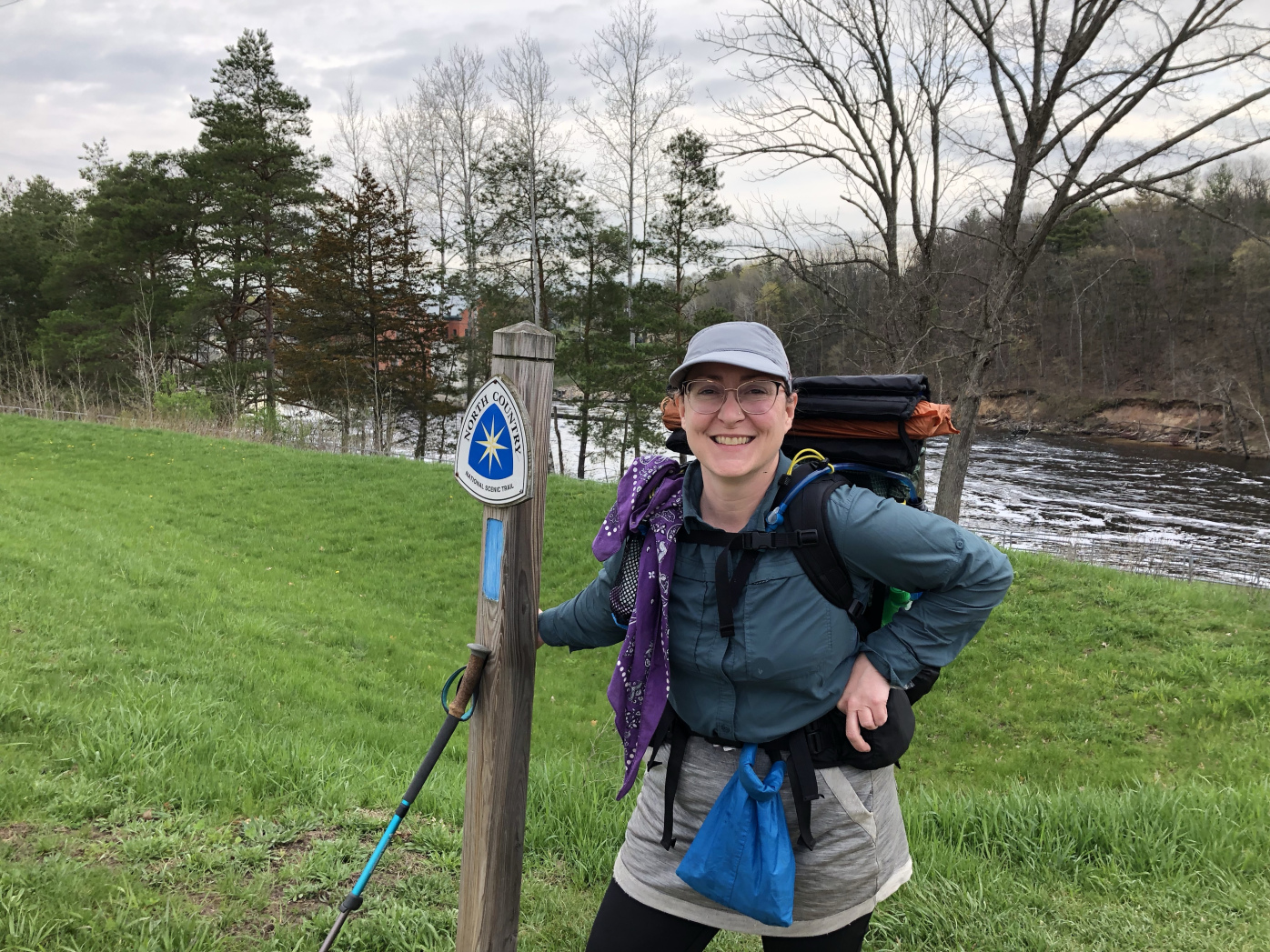 "I'll begin my trek near the trail's halfway point in lower peninsula Michigan, hike north to the upper peninsula, turn west toward Wisconsin, eventually cross into my home state of Minnesota, and finish at the western trail terminus in North Dakota," wrote Annie, on her blog site, Halfway Thru. "I plan to hike 2,400 miles in 5-6 months. I'll keep hiking as long as my body, money, and the weather hold out."
In May, she hopped on the Trail in Central Michigan with the goal of arriving at the Western Terminus (Lake Sakakawea State Park in North Dakota) by November. By the end of July, she was in the Western Upper Peninsula, having traveled about 820 miles. When October rolled around, Annie had finally turned away from Lake Superior after rambling alongside it for months. She completed the Superior Hiking Trail section, and headed onto the Border Route Trail and into the Boundary Waters Canoe Area Wilderness. "I praised and thanked the multitude of unknown volunteers who've been working to clear this trail since July 2017," wrote Annie. "It feels like a different trail." She had logged over 1,450 miles.
Shortly after her venture into the Border Region, Annie unfortunately contracted giardiasis ("beaver fever") and made the tough decision to step away from the Trail. She continued to edit and release videos from her adventure, and she continued to write about her experience.
"After 2,000 miles, my body makes more sense," wrote Annie, "Instead of returning to a sedentary life in the city, I'm hoping to move closer to the north woods. If I can, I'd like to live close enough to my work to be able to walk, run or bike my commute. My post-hike goal is balance: I need to return to work, but I want the woods to be a daily part of my life."
Why did she choose the North Country Trail? According to her first blog post, "The number of people thru-hiking (or hiking an entire trail) the Appalachian (AT) and Pacific Crest Trail (PCT) has been increasing each year," she wrote. "In 2013, the Pacific Crest Trail Association (PCTA) issued 1,879 long-distance permits (hiking 500 miles or more). In 2018, the PCTA issued 7,313 permits, according to the PCTA's website. The Appalachian Trail Conservancy asks AT thru-hikers to register their start date on its website. According to the registration charts for 2019, between March 1 and May 1 there are six days when more than 50 thru-hikers plan to start hiking northbound on the same day, and between March 1 and April 10, there is not a single day when fewer than 20 hikers plan to start the trail. That is a lot of people, so many people that the ATC has started asking people to "flip-flop" the trail to reduce damage to the trail."
Annie documented her journey by written blog, video blog (vlog), and social media, and despite her challenges, she remained enthusiastic and communicative. She expressed constant gratitude of the trail community and never missed an opportunity to be a champion for the North Country Trail. We at the NCTA loved watching her adventure unfold and evolve, and despite the attempt ending differently than she planned, we trust she still received a gratifying North Country Trail experience.
Have you planned your own next big adventure on the North Country Trail? Have you already succeeded and would like to share your story with us? Please submit stories, photos and videos to hq@northcountrytrail.org. We love to hear from Trail users!