Around Ohio Again!
Around Ohio Again!
Richard Morgan's Third Buckeye Trail Circuit
By Halle Dray
This article was featured in the Summer 2021 issue of the Buckeye Trail Association's Trailblazer magazine and permission to publish it on NCTA channels was provided by the Buckeye Trail Association (BTA). Minor edits have been made to this version to accommodate the NCTA style guide.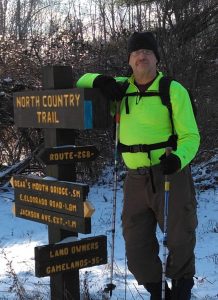 Buckeye Trail Association member, Richard Morgan, finished the last section of his third trip around the Buckeye Trail at 2:20 p.m. on May 16, at Tecumseh Lake in Shawnee, Ohio. Morgan was accompanied by Jake Thompson, a fellow Buckeye Trail Association member, during the last stretch of the trail. Both men received a celebratory greeting by the Buckeye Trail Crew Work Party camped out in Shawnee. Though several Buckeye Trail members have section-hiked the Buckeye Trail once – and some twice – Morgan is the only person to have section-hiked the Buckeye Trail in its entirety three times. Morgan has been a member of the Buckeye Trail Association for eight years, but was a trail regular even before joining. He began his first Buckeye Trail circuit hike in 2009 and has essentially never stopped since. Already, he's planning his fourth time around. Morgan even toyed with the idea of taking a bike out on the trail for his next trip.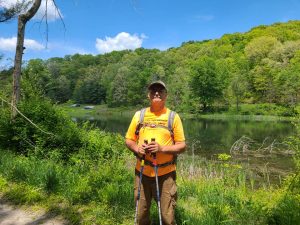 Morgan grew up in Vinton County in a country town surrounded by forest. Some could say this predisposed him to an immersive, nature-based lifestyle since childhood. However, he never had the opportunity to long-distance hike until retiring at age 50.
"I always wanted to see what was over the hill," said Morgan. "I could keep hiking and hiking and there will always be something new to see."
The Buckeye Trail especially suits him for this reason. Morgan has hiked on both the American Discovery Trail and the North Country Trail, through Pennsylvania, and parts of West Virginia, Kentucky, Tennessee, and Michigan. Yet, he frequently returns to the Buckeye Trail, because its diversity truly stands out to him from the other long distance trails.
"The Buckeye Trail has the most diverse terrain… from the flatlands to the hills, there's lots to see," said Morgan. "The trail goes through both private properties, state parks, national parks, towns…"
His personal favorite sections of the trail are located in the western side of Ohio – going from Cincinnati to Bowling Green – where the flat land allows for him to gain the most distance in a given day.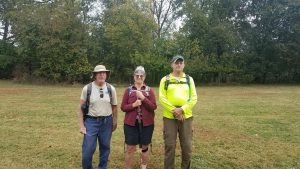 Richard Morgan arguably knows the trail better than almost anyone (save for BTA's Director of Trail Development, Richard Lutz) and has enjoyed seeing the progression of the trail throughout time. Like a river, the trail can change a lot in the course of a decade as it's maintained and increasingly rerouted off-road. He expressed how the section in Wayne National Forest near Shawnee, where he finished his third section hike, has cleared up considerably and become much more accessible through the effort of Buckeye Trail's volunteers and trail crew work parties. He also expressed how the updated portion going from Xenia to Dayton provided a nice change of scenery during his second and third times around the trail.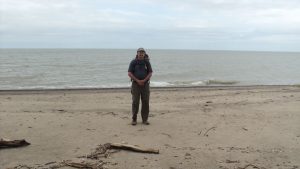 Morgan has logged over 4,333 miles of the Buckeye Trail since 2009. Through all of that, he's made friends with those who have hiked with him or provided shuttles to and from trail points. It is this collective encouragement and support to which Morgan credits his success. Despite enjoying hiking with friends like Thompson, Morgan also finds comfort in the solitude of the trail. He knows he can gain a lot of distance this way. Morgan described how Buckeye Trail is still gaining popularity, but it is also a solemn journey. "It's rare that you'll go out there and see other people."
Morgan attributes the small number of yearly Buckeye Trail section hikers to his keeping his record. Even so, he spoke of continuing his Buckeye Trail experiences with excitement, certainty, and confidence. One's competitive nature does not always have to be against others, but also as a means to break personal goals and records and to continue the journey over the next hill.
The Buckeye Trail and North Country National Scenic Trail share pathway for approximately 900 miles through Ohio. The Buckeye Trail Association (BTA) is a nonprofit organization responsible for all aspects of the Buckeye Trail, and it is an Affiliate of the North Country Trail Association. Learn more about the BTA at buckeyetrail.org.