Northern Lakes Hike, Hiawatha Shore-to-Shore Chapter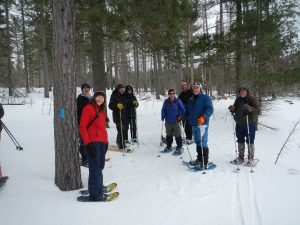 Join the NCTA Hiawatha Shore-to-Shore Chapter for a hike through the Great North Woods past Parcell Lake and Culhane Lake. We hope to have a bonfire in conjunction with this hike. This area is known for copious amounts of snow so come prepared for deep snow conditions.
We will meet near the entrance of Culhane Lake Resort as there is a plowed lot on the north side of Culhane Lake. We will carpool to the start of the hike and hike back to our vehicles. To get to this location, take M-123 either north from Newberry or west from Paradise. West of the Upper Falls, CR-500 travels north off M-123. This dirt road is plowed all winter but travel on it can be slow so plan some extra time. CR-500 is the road marked for Crisp Point Lighthouse (it isn't plowed all the way to the lighthouse). The address provided is for a private resort on the north end of Culhane Lake. We will be parking just before the entrance to that resort, which is just east of the State Forest Campground on Culhane Lake (GPS Coordinates: 46.696823, -85.35662). See the interactive map here.
Length of this hike is 4.5 miles. If a shorter or longer hike is desired, there could be an option for an out-and-back. After the hike we will gather for refreshment and refueling at a local establishment.
We will need to record your name and contact information before the hike. If you are sick or a family member is sick, please stay home. If you have been in contact with someone who develops Covid-19 around the time of the hike, please contact us at hss@northcountrytrail.org. Questions or comments? Call or text Tom Walker at 906-322-2617. Cell phone service may not be the best (non-existent) in the area of the hike.