Heather Johnson: Next Gen Member Spotlight
Heather Johnson is one of the NCTA Next Generation Coalition's newest members, and the first member from Ohio.
While she was applying to join the Coalition, we asked Heather a little about herself and her intentions for becoming a part of the NCTA community. Heather plans to support the North Country Trail, specifically in Southeastern Ohio, through outreach, advocacy, volunteerism and use of the Trail.
NCTA:  Where do you go to school and what are you studying?
Heather:  I am studying Field Ecology and Outdoor Recreation and Education at Ohio University. I was recently hired for Ohio University Outdoor Pursuits and part of my job involves leading outdoor trips ranging from day hikes to week-long backcountry trips.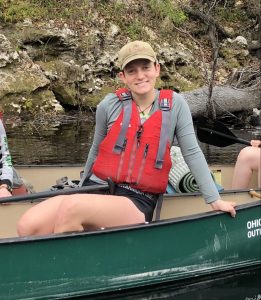 NCTA:  Briefly describe your experience.
Heather:  For six weeks with the Student Conservation Association, I worked in the Coronado National Forest in Arizona. As part of this crew, I was granted the opportunity to dip my toes into an array of Forest Service jobs. I completed trail maintenance, tore down and rebuilt a section of barbed wire cattle fence, dug a fire line for a future prescribed burn, removed invasive species, learned how to measure and core trees, practiced plant identification, and restored a historical site. Then this past summer, I worked out of the Wenatchee-Okanogan National Forest in Washington with the Northwest Youth Corps. For four weeks, I completed trail maintenance and invasive species removal on a variety of trails (ORV, hiking, mountain biking) across Washington.
Since freshman year in high school, I have been going on backpacking trips with friends/family. However, throughout these past six months, I have participated in multiple trips with Ohio University Outdoor Pursuits. I went on weekend backpacking trips in Grayson Highlands State Park, Seneca Creek, and Wayne National Forest. Most notably, I went on a seven-day canoeing trip in the Boundary Waters Canoe Area Wilderness in August and another seven-day canoeing trip on the Suwannee River in Florida over spring break. In high school, I was a member of student government and helped plan different events ranging from fundraisers to class picnics to dances.

NCTA:  What do you hope to take away from your time with the Coalition?
Heather:  I am hoping that I will be able to gain valuable experience for my future career in conservation and outdoor leadership. In addition to learning more about how to preserve these trails, I want to learn how to engage communities in environmental stewardship and convey the relevance of trails such as the North Country Trail.
This year, the Coronavirus has made the world crazy for everyone. At a time when we should be united in caring for the Trail – repairing damage caused by winter winds and ice, offering vital Crew Leader and chainsaw training, rallying volunteers to get involved – we can't. Fortunately, programs like the Next Generation Coalition are able to continue communications, as most engagement is conducted virtually. Group hikes and workdays with local Chapters may be on hold, but the work of the NCTA is not.