Jay Readey: Supporter Spotlight
"In any event, for all these reasons, I wanted to bring my NCT membership current and obtain maps to help plan my trip next year."
by Jay Readey
Based in the south suburbs of Chicago, I am generally a trail lover. One of my crowning achievements is "inventing" and promoting a 220-mile long trail around Chicago called the Outerbelt. It was recently featured in a Chicago Magazine article about great hikes around Greater Chicago.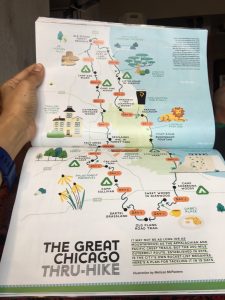 I probably first supported North Country Trail in 2007, but have been intermittent over the years. My family owns a cabin in Ohio that we call Rock Stalls Lodge, which is a hiker's paradise in north Hocking County. The road it's on happens to host a section of the Buckeye Trail, where it is overlapped by both the American Discovery Trail and North Country National Scenic Trail. So, a couple years ago I came up with an idea:
During Lent 2022, I am going to take a 50th birthday sabbatical to hike and bike roughly 400 miles from Rock Stalls Lodge, home to my south suburbs in Illinois as a "Jubilee Trip." I could actually do the whole thing on the American Discovery Trail, which joins the Outerbelt when it crosses the Indiana-Illinois state line. But I'd like to see the west side of Ohio and bike across northern Indiana, so I'll take the NCT north from Dayton.
In any event, for all these reasons, I wanted to bring my NCTA membership current and obtain maps to help plan my trip next year. And that's how I landed with a Chapter, too! My wife and I are soon to become empty nesters and spend much more time traveling the Midwest, so I will hope to hike some sections. I am also eager to do a someday bike trip around Lake Michigan, picking up the NCT in the Upper Peninsula.
Thank you for your enthusiasm for the North Country Trail, Jay, and for your thoughtfulness to begin supporting again.
If you are able, please visit northcountrytrail.org/donate today to consider a one-time gift, an annual NCTA membership, or a recurring monthly donation.