Jennifer Bieniek: Hike 100 Finisher
"I have shared the NCT love with many people."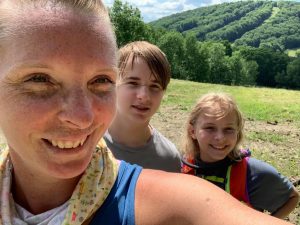 Jennifer Bieniek of southern New York participated in the NCTA Hike 100 Challenge in 2020 and submitted her completion form in September. In February 2021, we at the NCTA selected one 2020 finisher from the hundreds who submitted completion forms to win a grand prize package – a thank you for participating in the program and a congratulations for completing the Challenge. Jennifer is the winner! She's now stocked with NCTA swag and useful trail gear!
"I recently began hiking in 2019 as a way to do some low impact exercise after surgery; I fell in love with it quickly! I realized that I had missed out on this wonderful way to find peace! My kids joined my soon; I have three kids (two teenagers and a four-year-old). I live within 15 minutes of the North Country Trail, and am still astonished that most people from my area that I speak to about it have never heard of it. I plan to continue our adventures!"
Congratulations Jennifer, and thank you for your enthusiasm for the North Country Trail!
Learn more about the Hike 100 Challenge and share your stories with us: @northcountrytrail on Facebook and Instagram; #northcountrytrail #hike100nct
Thank you to Bill & Paul's Sporthaus in Grand Rapids, Michigan, for supplying gear.