Laura Brandon: NCNST Long Distance Hiker
Laura Brandon
Detroit, Mich.
Central patch + Michigan and 1,000-Mile rockers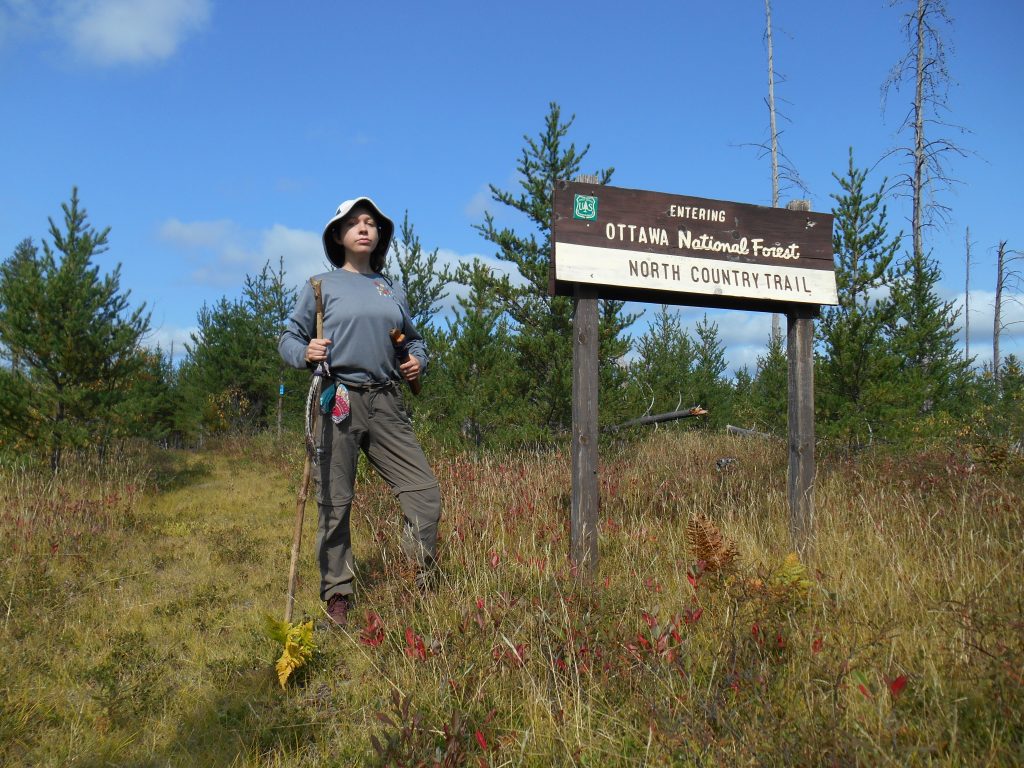 The morning of June 1, 2022, my love, Andy, drove me from Detroit to Waldron, to the Ohio border where I would start my trek north through the state of Michigan, following the route of the North Country National Scenic Trail. After five years of dreaming and five months of prepping and planning, I was primed for an epic journey. 
My trip planning was extensive. I made an Excel spreadsheet of daily mileage, campsites, food weights and costs. I prepared all my own food, buying rice and beans in bulk, cooking and dehydrating them. I resigned from work with the promise of being rehired upon my return.
My first month of mostly road walking, foot pain was my greatest obstacle. At the end of July, I had hiked the entire Lower Peninsula and had a three-day break with my parents and my brother, Jake, in Wilderness State Park. I spent the next week wet and trying to outrun massive mosquitoes. 
After I passed Naomikong Pond, I listened to Lake Superior lap at the shore nearby. This was magical for me, having hiked from Ohio to the Great Gitche Gumee. I swam in her waters and watched the sunset colors illuminate the horizon. The next day I arrived at Tahquamenon Falls State Park.
Through Pictured Rocks [National Lakeshore] I passed many other hikers and some runners, and arrived in Munising ready to be alone in the woods again. When I made it to my next resupply point in Marquette, my relief changed to grief. The campground owner lost the resupply package – 10 days worth of food, my cold weather gear, and a book – all nowhere to be found, and no sympathy. Fortunately, Trail Angels offered me a room to stay in for my time in Marquette. 
I left the big city instilled with the courage one feels after defeating an unexpected obstacle. The food I bought to replenish my lost resupply box was insufficient to cover my daily caloric expenditure in the hilly terrain that is the Western UP. I felt delirious at times, lacking proper nutrition, hearing voices and seeing shadows in the trees.  I was ill-equipped for cold weather after losing my gear in the missing resupply box.
When Andy arrived at the end of the week, I cried. We ate like royalty for days. For three nights, he met me along the Trail each night, setting up camp, feeding me, and providing me with the comfort I needed to refuel my heart. 
Gazing towards the Porkies, I felt strong, well-fed, well-loved, and accomplished. Traveling so far by foot felt like a revolutionary act – an act of defying the norms set by the modern world, to experience the world as humans did so long before.
My last night on the North Country Trail was spent at Little Girls Point Park. A friend, Muse, met me there with freshly canned pickles and homemade granola. We reminisced, shared songs and poetry, and fell asleep by a bonfire to waves singing harmoniously across Lake Superior. On September 30, 2022, I started my final day of hiking. I was stunned to feel so unemotional – it was a massive accomplishment, yet it felt like a duty. It was a commitment to myself to complete this epic adventure. And it was more than natural to do so – it was fated. This journey had already happened in my dreams and there at the border I stood realizing my dreams were reality. 
Learn more about long distance hiker recognition at explorenct.info/NoCoLo/index.htm.