Tracy Hager: NCNST Long Distance Hiker
Tracy Hager
East Palestine, Ohio
Central patch + Pennsylvania rocker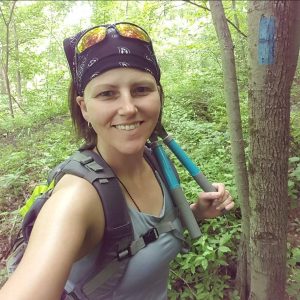 I began hiking the North Country [National Scenic] Trail in 2016. It began during a night hike with the NCTA Wampum Chapter. I had no idea at the time, that I would begin the journey to complete the entire state of Pennsylvania. 
I hiked most of the Allegheny National Forest while participating in several Allegheny 100 (A-100) Challenges. I hiked in sweltering hot temperatures and below freezing, too. Rain, snow, and everything else in between. Section hiking the trail meant driving to far away locations where the weather was different than home. The most memorable weather shift was when home had no snow, but part of the State Gamelands 95 had two feet. I dropped off the roadway into a four-foot snow drift thinking there was solid ground underneath.
I had a number of run-ins of sorts with animals and folks. To name a few: a large Doberman, deer and lots of them, unleashed pets, a "whoo-hoo" here and there on the road, a father and son at the Highland Shelter, and a kind woman who, in the last half-mile being hiked, asked me if I needed a ride or a safe place to stay for the night.
I thank everyone who has helped me achieve this challenge: Buckeye Trail Association and NCTA members, friends, hiking acquaintances. I've had friends and especially my family, drop me off before it was daylight, ALONE, against their will so that I could accomplish this goal. I love and appreciate all of them.
Ohio is next.
Learn more about long distance hiker recognition at explorenct.info/NoCoLo/index.htm.